Living Walls: Grow Your Own Art
If your walls could talk, they'd ask for some plants.
Horizontal planting is so 1860! Vertical living walls have snagged that coveted spot over the couch and are adding lots of wow to walls around the world. Made of everything from recycled plastic to coco fiber and engineered with super-smart watering systems, these 3-D designs will truly grow on you.
(Don't want to water your walls? We've included a few no-maintenance options that offer all the environment without the effort!)
The Latest From Our Blogs
Catch up on the latest HGTV show and design news right here.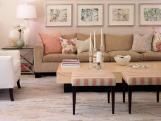 Found a living space you love in HGTV's Photo Library? Get the look in your own home with products from Wayfair.