These little lovelies deserve a fabulous planter for being so wonderfully low-maintenance.
I love all plants equally. And I could never choose my favorite plant, much as most of you could never choose a favorite child or pet. But if I had to—I mean if you twisted my arm—I'd be forced to say that air plants are the Coolest. Plants. Ever.
They don't need soil. They love light. They get nutrients from their air through their awesome little leaves. They don't need to be watered, only misted a few times a week.
Mostly they just sit wherever you put them and look fabulous, but they deserve a fantastic planter for being so incredibly low maintenance. Here are a few that do them justice:
The Latest From Our Blogs
Catch up on the latest HGTV show and design news right here.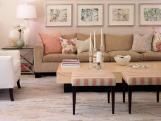 Found a living space you love in HGTV's Photo Library? Get the look in your own home with products from Wayfair.