The actor gives us a glimpse into his life off the set.
Eric Mabius has played everything from a prep school athlete in the film Cruel Intentions to an ambiguous villain in the BBC sci-fi series Outcasts. Fans of the hit series Ugly Betty who swooned over his portrayal of Daniel Meade, a womanizing magazine executive, will get a chance to see Eric shine in another romantic comedy when the Hallmark Channel premieres How to Fall in Love, an original TV movie, on Saturday, July 21, at 9 pm ET. When it comes to discussing his latest project and life off the set, Eric shares some frank opinions and clear priorities.
Your character, Harold, in How to Fall in Love is a successful accountant who has no idea how to get a date, so he hires a dating coach who happens to be the high school crush who broke his heart as a teenager. What made you decide to do this project?
Ten years ago, I probably wouldn't have done it, but now that I'm a father, there was just something touching about the script. One of the first films I did was a Hallmark Hall of Fame Movie (Harvest of Fire), and I love it that they do positive, feel-good movies. Plus, I got to work with Brooke D'Orsay, who's so much fun, and Kathy Najimy, who I worked with on Ugly Betty. It was a really sweet love story.
Why do people love romantic comedies so much?
I think everyone loves a happy ending, even if we go through our nihilistic, I'm-too-cool phases. I think we all secretly want to get things right in life, and watching characters suffer with no reward is just sadistic. Love is something that's always a work in progress. You never know when you're going to meet the right person. I married a girl from high school. We never dated and met again 10 years after the fact. So it's true what they say — love comes when you least expect it.
Do you believe in soul mates? So many movies promote the idea of finding "the one and only."
And that's a disservice. We're too focused on finding a soul mate, rather than learning to function in a healthy relationship and letting things happen. The most challenging thing for my character Harold was changing his perspective. He was wounded by a woman he was in love with in high school and is trapped in a place of self-denigration, feeling like he'll never be enough. Having that peel away was the most important thing for me. We all have moments we'd like to replay and do over, especially in the formative years.
Do we all feel like ugly ducklings at times?
Absolutely. We all feel like we don't fit in the world at times. With Harold, changes occurred from the inside to the outside. It's the possibility of what can happen that fuels people's fire.
Do guys watch romantic comedies?
Guys are easy to please. If there's a cute girl and a few jokes in it, they'll find it easy to watch with their girlfriends. I think men have to watch if they want to keep getting along with their significant others.
Where did you grow up, and what do you remember about the neighborhood?
I remember growing up in Warren, Mass., a small town in the middle of nowhere. We didn't have much money, so we baked our own bread and picked blueberries to make jam. We heated our house with a wood stove and cut our own wood. My father was a colonial history museum director, and I remember sitting with my father and brother, splitting and stacking wood. I drew strength from that. Later on, we moved to the Jersey Shore, then to Amherst, Mass., where I went to high school.
Sounds like you have a special love for Western Massachusetts.
I do. When Ugly Betty moved to New York, we bought a house in Leverett, Mass., a town of about 1,800 people, and I got to spend time there with my family. I was splitting, stacking and burning my own wood again, which was very satisfying. Western Massachusetts is really progressive. It's a special place with creative people who want to be left alone. We've been there on and off and will retire there one day.
Where do you live now, and what makes the neighborhood special?
We live in the middle of nowhere in Topanga, Calif., in the second house we've bought in the area. We found it through a real estate agent we'd been working with for years. He said there's this place that's farther out than you want and more than you want to pay. But we loved it. The architect had built it for himself in the early 1990s, so we tracked him down and did a major addition with his help over the last three or four years. The house is a postmodern Italian home with 18-foot-high ceilings. It's angular, but the lines don't feel harsh. We have views of the mountains behind us and the ocean in front of us. It's got five bedrooms, three bathrooms, a pool and cabana, two bunnies and one dog. I've got a lot of land and have a decent orchard going here. We've been pulling hundreds of pounds of peaches from the trees and making pies and ice cream with them. We have 50 to 60 trees with 15 different kinds of fruit. Digging in the dirt is my favorite thing to do.
What's your favorite room in the house?
My favorite room is the master bedroom. It's a suite with a fireplace and balcony that looks down on the ocean. We enjoy spending a lot of time there, and the kids sense that, so they come up to be with us.
What does home life mean to you?
Home life is where I recharge my batteries. I see a lot of parents trying to fill up their kids' schedules all the time, but here, the outdoors is the activity. My wife has an art studio in the meadow, and the kids go there to play with her. I could never leave this place. I spent most of my 20s and 30s seeking work. Now that I'm 40, I'm seeking ways to avoid work as much as possible to be with my two boys more. They're 6 and 3, and being with them is just too much fun to miss.
The Latest From Our Blogs
Catch up on the latest HGTV show and design news right here.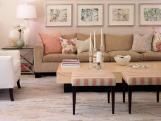 Found a living space you love in HGTV's Photo Library? Get the look in your own home with products from Wayfair.