From Desperate Kitchens to Kitchens of Distinction
John and Anthony bring the special sauce to another fine batch of kitchen makeovers in HGTV's inspirational-transformational kitchen show, America's Most Desperate Kitchens.
The final two episodes of HGTV's hot kitchen-design show, America's Most Desperate Kitchens, make their network premiere tonight, putting the capper on another arc of episodes featuring some truly innovative and eye-catching kitchen makeovers.
Chris Amaral
This newly updated kitchen is in a New Jersey farmhouse that's more than a century old.
As always, Kitchen Cousins John Colaneri and Anthony Carrino come to the rescue of homeowners eager to make the case that their kitchens are worthy of the dubious distinction of "Most Desperate." And, as always, the duo manages not only to breathe new life into some formerly drab, dank and supremely dysfunctional spaces, they find a way to incorporate at least one razzle-dazzle, rock-star feature that both wows the homeowners and makes the revealed end-result buzzworthy and share-worthy among design aficionados. And they do it all on-camera with their trademark endearing — and occasionally hilarious — panache.
So let's take a moment to review some highlight spaces and features from the show's second season, starting with the project from the season premiere.
Retro-Modern Kitchen and Bar
For their first new project, John and Anthony update a tiny galley kitchen in Sacramento, Calif., transforming it into a large entertaining space with a custom bar and a midcentury feel.
Midcentury is an appropriate touchstone for this project since the home was built in the 1950s, and originally belonged to the grandfather of one of the current owners. Like many homes from that era, the kitchen was a tiny galley, was isolated from the rest of the house and — far from being a classically endearing time capsule from the Don Draper era — had through later updates picked up vestiges of the '70s, '80s and '90s. Among the key offenses in the visual hodge-podge were contractor-basic wood cabinets, avocado green appliances, dingy yellow tile countertops and a section of laminate flooring that one of the homeowners described as looking like "a clown explosion."
If you're a regular follower of John and Anthony, it will probably come as no surprise that this project got underway by taking out a wall to enlarge the kitchen and merge it both visually and functionally with the adjacent living room. They added a massive island – actually, at 12 feet by 4 feet, the largest one the cousins had yet installed — along with bar seating, thus eliminating the need for the tiny dining room that was hardly being used anyway. Presto! The dreary dining space is transformed into a stylish wet bar at one end of the kitchen's expanded footprint.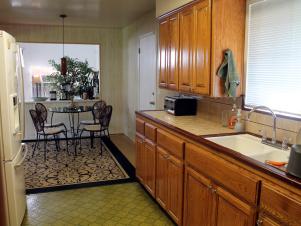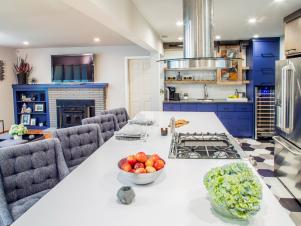 Martin Klimek/Getty Images
Large Island Provides Generous Storage for Open Kitchen
As seen on HGTV's America's Most Desperate Kitchens, designers were able to open up the floor plan to create a larger kitchen space and to add a large island with integrated range and a generous amount of storage space. A pass through window was closed off to convert the old dining room into a bar area with additional storage.
Other highlights in the overall transformation included ceiling height cabinetry, floating shelves, a wine fridge and custom metal doors mounted on rolling sliders. The metal doors, with an abstract design that evokes '60s era modern art, were handmade by John and Anthony with help and guidance from metal artist Terrence Martin of Jagged Edge — a custom metalwork shop in West Sacramento.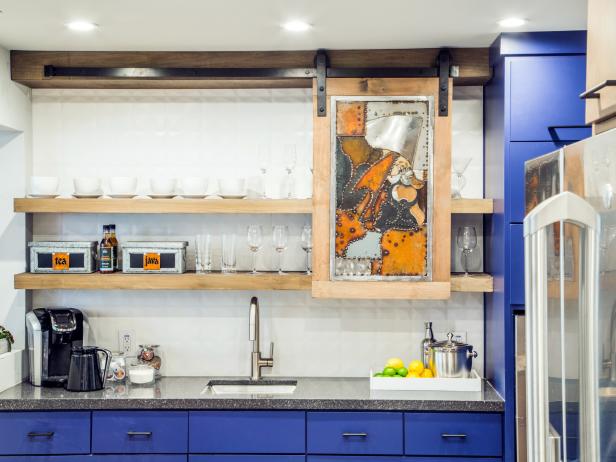 Contemporary Bar Area Adjacent to Renovated, Retro Kitchen
As seen on America's Most Desperate Kitchens, designers Anthony and John created a separate bar area just off the kitchen. To delineate the two spaces, designers used bold, blue cabinets and a gray countertop, creating visual separation from the adjoining kitchen space. Then, they added a three dimensional backsplash and two long shelves for storage. A final bit of decorative flair is added with the sliding barn door that matches the one concealing the pantry.
From:
America's Most Desperate Kitchens
Martin Klimek/Getty Images
And as is often the case, the Cousins didn't stop their renovation at the boundaries of the kitchen, but expanded the improvements into the living area that the kitchen now opened onto. They updated the original period fireplace with neutral gray paint and removed scalloped trim, replacing it with flat trim for cleaner lines. They then furnished the room with a complement of contemporary pieces that also evokes the early '60s.
What's more, to bridge the two spaces, John and Anthony integrated the black-white-and-gray hex tile floor of the kitchen with the hardwood of the living room by means of hex cutouts in the periphery of the wood floor – so that tile and wood were joined together like jigsaw-puzzle pieces. "This is what is making this kitchen," John said, "We really want to make sure that it looks perfect and that we blur the lines between the kitchen and living room."
In a very different kind of kitchen, and a different sort of makeover, John and Anthony headed to Lafayatte, New Jersey to update a 100-year-old farmhouse kitchen, creating a distinctive design that combines both modern and rustic elements. For this project, and according to the wishes of the homeowners, preserving (or, in the case of the kitchen, reviving) the home's original farmhouse feel was paramount. Indeed, if the kitchen had once possessed a quaint turn-of-the-(last)-century country charm, it had largely been lost, and judging from the evidence on hand, it likely happened sometime in the 1970s.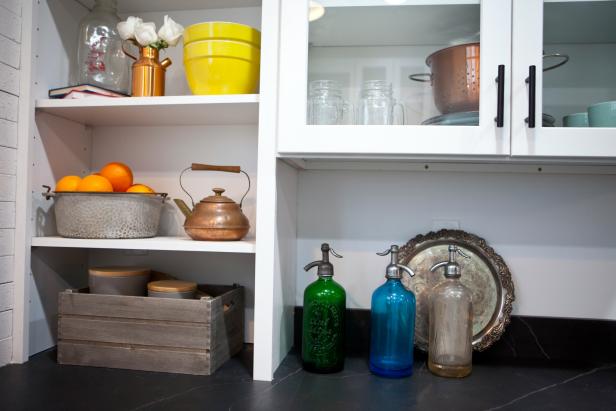 Bright Objects Keeps Corners Light
As seen on America's Most Desperate Kitchens, designers brightened a dark corner space by adding colored plants, fruits and colorful, vintage glass bottles. To help keep the small space feeling open and bright, glass paneled upper cabinets were installed helping to create an authentic, vintage feel to the space.
From:
America's Most Desperate Kitchens
"This kitchen is making us blue" … was how homeowner Katie summed up the home's dated, barely functional kitchen. Prior to the renovation it had blue laminate flooring, sky-blue countertops and backsplash, a blue patterned wallpaper border and dated cabinets. It also had no dishwasher, and the oven/range combo had seen better days.
Jersey Farmhouse Kitchen, BEFORE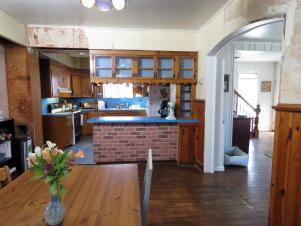 Jersey Farmhouse Kitchen, AFTER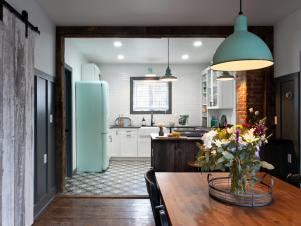 Mint Green Details Connect Spaces and Maintain an Authentic Design
To add color to the updated, yet still authentic feeling kitchen and dining room spaces, designers on America's Most Desperate Kitchens continued the mint green color from the kitchen into the dining room. The mint green of the refrigerator and the KitchenAid reflect flecks of mint green in the custom, large print tile floor. The same accent color enters the dining room with the vintage, mint green pendant light.
John and Anthony began by removing hanging cabinets to open up the sightline to the adjacent dining room. They also reworked the kitchen peninsula, wrapping it in reclaimed wood, and integrated a new range. And they unwrapped an original brick column that had previously been covered with drywall, bringing the warmth of exposed brick back into the space.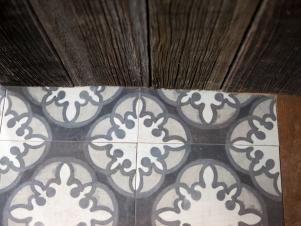 Vintage Features in an Updated, Farmhouse Kitchen
As seen on America's Most Desperate Kitchens, the aim of this kitchen remodel was an updated farmhouse design, so designers left vintage elements, such as the glass paneled cabinets and exposed brick, in the space. Then, they added a reclaimed wood door to cover the entrance to the pantry. Updates in the space include a durable, quartz countertop, a white subway tile backsplash, and modern, stainless steel appliances.
America's Most Desperate Kitchens
The old antique wood breakfast bar, sits on top of an engineered wood patterned floor that is from the cafe line of floors from Mirth Studios. The floor pattern is meant to have a classic farm house feel and of a cafe as well. As seen on America's Most Desperate Kitchens.
The star attraction in this project had to be the creative use of wood. In addition to the reclaimed wood on the base of the peninsula, the cousins wrapped a new LVL support beam in wood taken from an old hand-hewn beam, giving it a rough and rustic look. They also fashioned a new pantry door using aged wood from a barn in Ohio, complete with moon-and-star cutouts, and they replaced old laminate flooring with engineered wood tiles in a classic and elegant pattern and soft gray tones.
Combine all that with a classic apron-front farmhouse sink, black quartz countertops, glass-front cabinets and a new-but-vintage-look Smeg refrigerator in pastel green, and you've got one decidedly smart-looking kitchen that's still aesthetically in keeping with the home's age and history.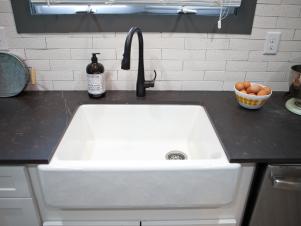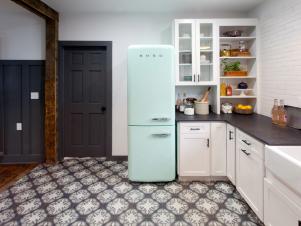 Vintage Inspired Refrigerator and Tile Give Kitchen an Authentic Look
To create the perfect vintage, farmhouse look, designers at America's Most Desperate Kitchens added a new, pastel green Smeg refrigerator. Despite its retro design, it has all the modern gadgets of a stainless steel fridge in a cute, kitschy package. To complete the design, custom large pattern tile flooring and an exposed beam gives the space an authentic farmhouse feel.
Of course, not satisfied with only the kitchen, John and Anthony furnished the adjoining dining room following a suitably rustic and antiquated motif and creating a cohesive look for the two spaces. "The important thing for us here is that this is a very historic home," said Anthony, "It's very clear that [the homeowners] bought this home wanting to respect history, and we wanted to work within that."
Northern California Wine-Lovers' Kitchen
And in the new episode airing tonight, John and Anthony head back California to help a young couple turn a dingy, poorly lit, unfinished kitchen into a bright and open space with sleek lines, modern design elements, a custom two-tiered kitchen island and custom glass-enclosed wine rack. Check out the complete makeover, below.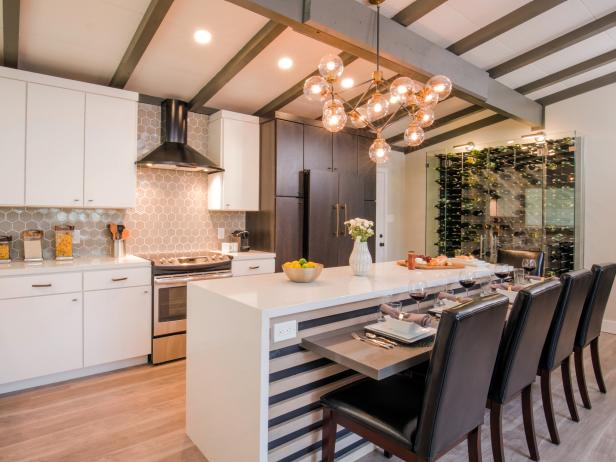 Island Seating for Six in Renovated State of the Art Kitchen
As seen on America's Most Desperate Kitchens, this renovated kitchen space in Carmichael, California has been transformed into a state of the art space. The new design features an eat in kitchen with island seating for six, comfortable, leather chairs, updated, stainless steel appliances and a custom, easily accessible wine rack.
From:
America's Most Desperate Kitchens
Martin Klimek/Getty Images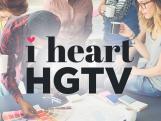 Get to know the talented writers and editors of HGTV's show and design blog. 
Go Behind the Blog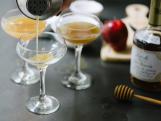 Take a look back at our past posts, from entertaining and design trends to up-and-coming HGTV shows.  
Read All Our Past Posts