See Which Spaces Won Over Our Pros From the HGTV Ultimate Outdoor Awards
No matter where you live, there's no denying that warmer weather is (finally!) on its way. Here at HGTV, lengthening, sunny days put us in an outdoors frame of mind. If you're also itchin' to get outside but could use a little designer inspiration to whip your outdoor spaces into shape, then look no further! 
Our HGTV Ultimate Outdoor Awards features 36 stunning outdoor spaces, designed by the country's leading designers so selecting winners in each of the six categories was no small feat. With so many great designs, the voting was heated — learn more about the award-winning spaces that wowed our pros.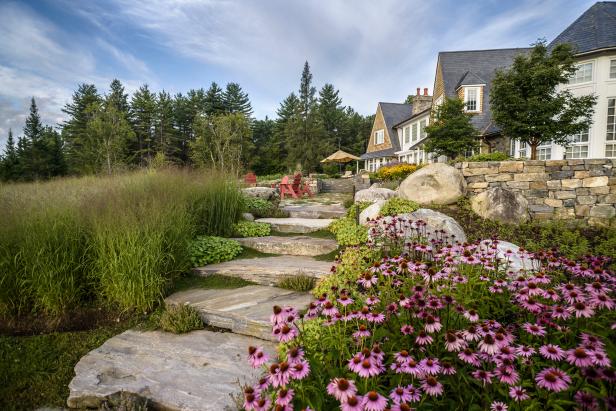 Pastoral Backyard with Stone Stairs and Walls
The landscape design features well-crafted elements, such as the stone paver stairs and masonry walls. The slabs of stone serve as a pathway to a fire pit and a dining area underneath an umbrella.
Designed by landscape architect Sandra Clinton, "gorgeous" truly defines this lush garden that perfectly complements the property's mountain locale and home's stacked stone facade. Sandra planted more than 200 varieties of native trees, shrubs and groundcovers to create, in her words, "large sweeps of color and texture that carry your eye through the garden, and through the seasons, with continuously changing drama."
The ever-changing planting palette wasn't Sandra's only addition, she also added a variety of hardscapes, from low-stone walls and paver patios to ornamental boulders and a stacked-stone fire pit. "The use of local stone helps the design blend into the mountainous backdrop and marries the garden to the natural landscape," says Sandra.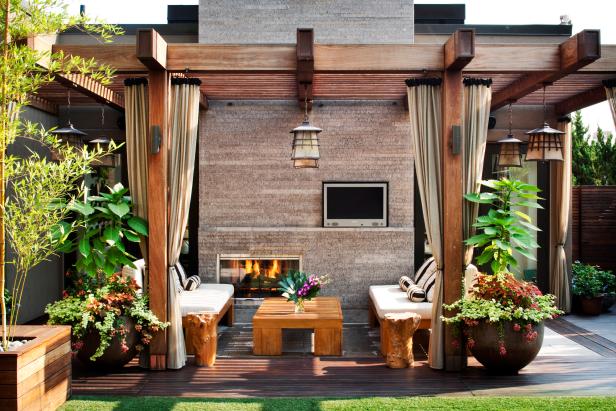 Asian-Inspired Outdoor Area With Fireplace
This Asian-themed outdoor living area mixes simple and traditional styles with modern technology, featuring a glass-enclosed fireplace and an outdoor television. Two sofas face one another across a low coffee table among various potted plants and lantern-inspired lighting.
Designers Alec Gunn and Aaron McIntire didn't let a small amount of space limit their imagination when designing this New York City rooftop garden. They put every square foot to work creating a luxurious urban oasis that includes, in their words, "multiple outdoor living rooms complete with a fireplace, hot tub, comfortable furniture and shade cover." But what really caught our editors' eyes is the designers' attention to detail; Alec and Aaron added a tall juniper hedge to the roof's perimeter for privacy, then filled every available space with fun and functionality.
Adjacent to the outdoor seating area is a kids' play fort, along an exterior wall is a slim outdoor kitchen and everywhere are thoughtful touches, like weathered copper end caps on the pergola beams and the homeowner's own collection of antique Buddha sculptures placed dramatically as garden focal points.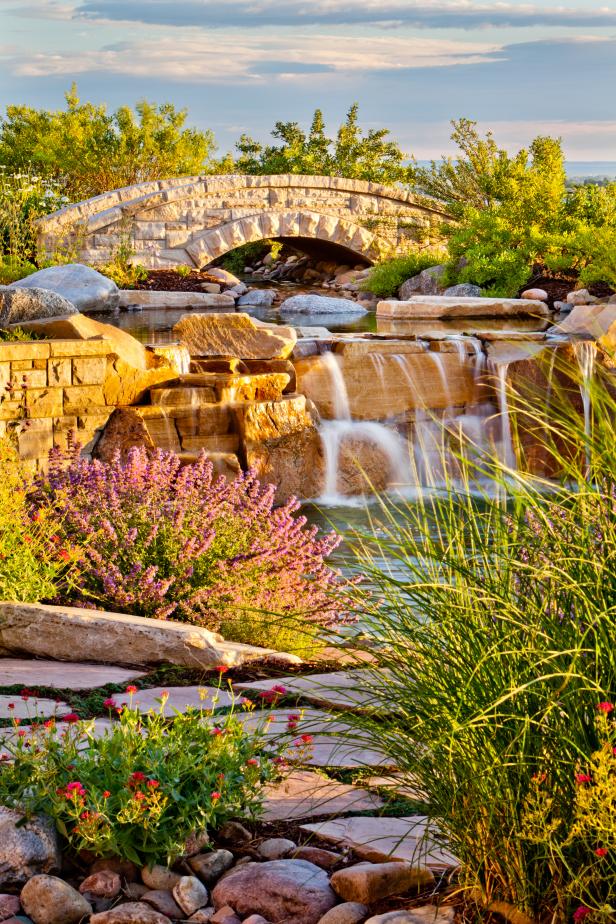 A Custom Stone Bridge Crosses Over A Naturalistic Pond
A flagstone bridge connects walkways around a natural looking pond complete with native plants. The water streams over formal masonry walls balanced with tumbled boulders, creating an engaging and eye catching water feature.
Overlooking a large lake, these lush grounds not only feature sweeping water views but also include several thousand square feet of water elements, adding a sense of movement to the garden's design. From a waterfall composed of stacked boulders — that looks as if it were crafted by nature — to a pond surrounded by native grasses, water influences every aspect of Tim Lindgren's award-winning design. But the sense of movement isn't the only role water plays. "No matter where you are on this property, you're able to hear or see water. Our design moves massive amounts of water through the site to create amazing sound," says Tim.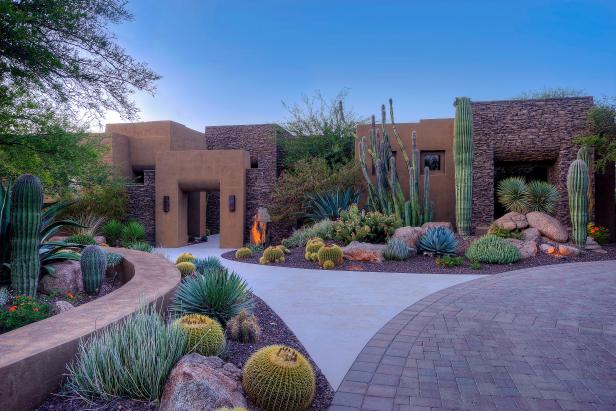 Large-Specimen Cacti Support Home's Bold Architecture
Large-specimen cacti create focal areas that support the home's architecture. The plants are attractive as well as durable against frost and drought.
One of the few submissions featuring xeriscaping, or landscaping that requires little or no irrigation, this stunning Southwestern front yard wowed our editors, taking the win in the curb appeal category. Designer Pascale Sucato skillfully combined mounded earth, large boulders and mature cacti to create a sculptural garden that can survive the desert's harsh conditions.
"All the natural elements played a role in this design: extreme heat, freezing temps and wildlife all needed to be considered," says Pascale. "Rabbits, gophers and javelina would feast on young plants so plants large enough to deter hungry animals was a must. Young plants are tender, juicy and inviting while larger specimens are tougher to eat. Plus, installing larger plants adds the look of a mature landscape instantly."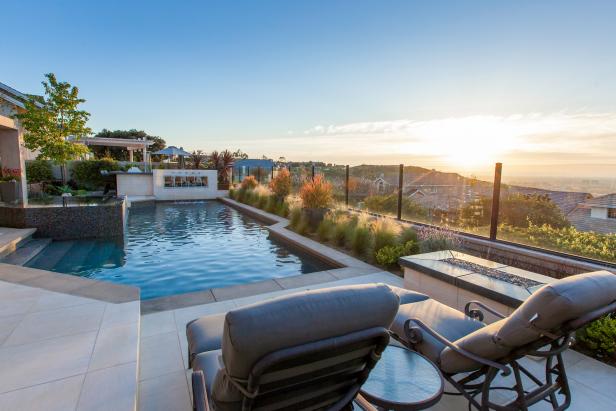 Plant-Bordered Swimming Pool With Neutral Lounge Chairs and Fire Pit
A light, neutral patio tone is perfect for this airy backyard balcony design. A glass wall lining the edge keeps with the open look. Plants border the perimeter adding natural color and texture. Lounge chairs facing the pool and fountain offer cozy seating.
Landscape designer Warwick Hunt makes sweeping views of the rugged California countryside part of the plan in this resort-like backyard that includes a modern pass-through fireplace, dual water features and a Zen garden. With plenty of wow-worthy features included, it's no wonder that Warwick's design was our editors' top pick. But what really sets the space apart are the industrial-style gabions or steel mesh cages filled with stones.
"The gabion walls surrounding the Zen garden really appeal to people," Warwick notes. "They have a great natural and slightly industrial feel while still being soft. We created water spills from each end of the walls to add a soothing feel and melodic sound to the space."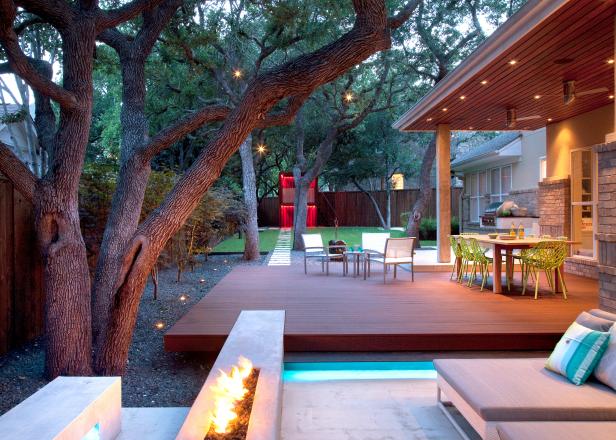 Outdoor Living Space Complements the Home and Existing Landscape
This outdoor living space was designed to reflect the home's interior design. The overlapping decks provide smooth transitions throughout the space and the tiered levels create visual points of interest.
Designed to accommodate playtime for both kids and adults, this multi-functional backyard features designated areas for food prep, dining, conversation and lounging. Plus, it's one of the coolest kids' play areas we've seen. Illuminated with red or blue lights, the play structure is thoroughly modern in style, making it a good match for the rest of the backyard's streamlined design.
Ensuring that the design flowed from one element to the next was important for Jose, as was preserving the existing mature trees. "The large oaks are a key part of the design. We embraced and accentuated them by making them focal points in the design that also help in defining space," says Jose.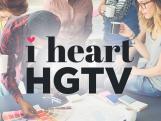 Get to know the talented writers and editors of HGTV's show and design blog. 
Go Behind the Blog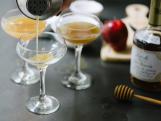 Take a look back at our past posts, from entertaining and design trends to up-and-coming HGTV shows.  
Read All Our Past Posts