Aromatherapy 101: The Essentials of Essential Oils
Learn all about aromatherapy and the benefits of using essential oils all year round.
It wasn't long ago that I associated aromatherapy with the whole hippy dippy scene that I overdosed on back when I lived in Woodstock with my hippy dippy parents as a kid. (Yep, THE Woodstock.) My nursery school was called The School of the New Moon, and it was in the middle of a forest and we cooked our own food every day. (You get the picture.) But in actuality, the use of aromatherapy dates all the way back to Roman times.
As we spring into February and prep for spring, I'm ready to embrace anything and everything that will help in my quest to stay as relaxed and stress-free as possible this year. So let's get this aromatherapy party started!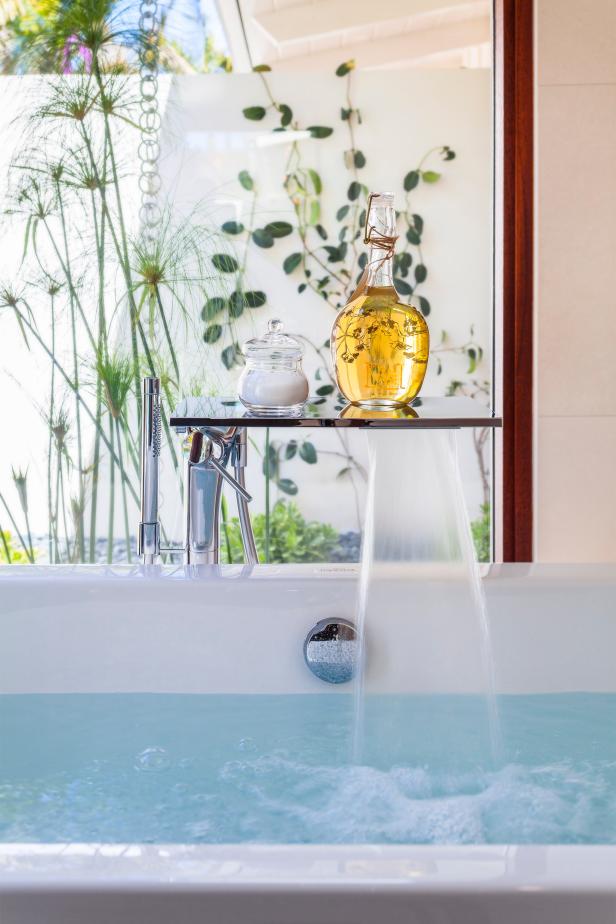 Spa Bathtub With Waterfall Feature
This relaxing spa bathroom features a bathtub with chrome fixtures and a luxurious waterfall feature. A small glass shelf is positioned next to the tub, providing a convenient spot for bathroom essentials.
Aromatherapy is the practice of using essential oils to help change your mood, cure ailments or promote balance in your life (body, mind and spirit). The idea is that certain scents help to bring about physical and emotional changes in our bodies.
At first it might sound like a silly concept, but if you've ever been to a spa before, chances are you've already experienced some of the effects of aromatherapy without even realizing it. Massage therapists and facialists often use products with aromatherapy properties to relax you, and some spas actually have systems that scent the air with specific oils and scents.
The fab thing about aromatherapy is that scents can be mixed and matched depending on what you're trying to achieve. But before you can become an aromatherapy DJ, it's important to take note of what each type of scent can do for your or your home.
Studies show that lavender can help to decrease muscle tension and even slow down your heart rate in some cases. As it helps so much with relaxation, it's a common ingredient in bath products, too.
Lemon, lime, grapefruit, orange or verbena scents can help boost your mood or give you a bit of an energy refresh.
This is a good choice if you're feeling a bit under the weather, as eucalyptus has been shown to help open the sinuses and soothe headaches.
Both scents have been shown to help stimulate the brain and help with mental fatigue, as well as alertness and memory enhancement.
Jasmine helps fight stress and anxiety and has even been shown to be a slight anti-depressant.
How Can I Incorporate Aromatherapy Into My Home?
Ok, now that we're ready to dive into aromatherapy, I wanted to share some easy ways you can start to incorporate these scents into your home.
Make Your Own Essential Oils
For those of you that love a good DIY, you can make your own essential oils at home. You'll need some fresh herbs (which you might already have in your own garden), extra virgin olive oil and some glass jars to get started.
Aroma diffusers are a great way for a beginner to get started with aromatherapy. Similar to a vaporizer or air purifier, these gadgets allow you to add a few drops of your favorite essential oils and diffuse them through the air in your home. You can easily mix oils or focus on one scent.
Eucalyptus Spearmint Bath Soak
Taking a hot bath is already a great way to relax, so why not add some aromatherapy to the mix? Using these bath soak salts will take your bath to the next level.
Revive Aromatherapy Candle
This citrus-y essential oil-infused soy wax candle will help to refresh and invigorate you every time you light it up.
Anti-Stress Sinus Eye Pillow
An eye pillow was actually my introduction to aromatherapy and now I'm completely hooked. These don't necessarily block out all the light, but they do give you an all-night dose of your favorite scent.
Aromatherapy Locket Bracelet
For those of us that are ready to take a deeper dive into the world of aromatherapy, this is a gorgeous gift. This 18kt gold bracelet uses a locket to diffuse whichever scent you'd like through a few drops of essential oils.
Spa Comforts Shoulder Wrap
For those of us who are challenged by aches and pains, an aromatherapy wrap is a great tool to add to your arsenal. These can be heated up in the microwave or put in the freezer, so they work whether you need heat or ice.
Aromatherapy Anxiety & Stress Relief Spray
Aromatherapy is not just for people; your pets can actually benefit from it, too! This spray uses therapeutic-grade essential oils and can help your pup relax during times of stress or anxiety.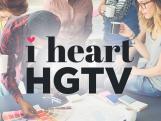 Get to know the talented writers and editors of HGTV's show and design blog. 
Go Behind the Blog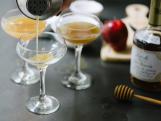 Take a look back at our past posts, from entertaining and design trends to up-and-coming HGTV shows.  
Read All Our Past Posts