10 Cozy Updates to Get You Through Winter
Kick those winter blues and give your home the seasonal update you've been missing with these fun ideas for simple, wintry decor.
It's been almost an entire month since Christmas, and I'm still missing the sparkling lights, fragrant greenery and general festive fun that the holidays bring. With all my Christmas decorations packed up, I can't help but feel like my house is missing something. So instead of leaving my home in a blank state until the next holiday rolls around, it's time to add some winter charm to my humble abode. That's where these sparkly, warm and cozy winter decorating ideas come into play.
If you miss your holiday garland as much as I miss mine, this magnolia leaf alternative is the perfect way to brighten up your mantel and bring some non-Christmas greenery back into the house.
A naked door is a sad door. So, instead of letting your bare entrance get you down, dress it up with a colorful wreath that celebrates the season.
During the holidays, my throw pillows get a major Christmas update. And now that they're gone, my regular pillows just aren't cutting it. This easy DIY not only adds a cozy winter touch to your decor, it also makes the most of those old sweaters you haven't been able to part with.
Remember how those colorful Christmas ornaments used to light up the room? Don't say goodbye. Instead, try your hand at these wintery yarn-wrapped pinecones. Just wrap your yarn around the pinecones and place them in a bowl for the perfect seasonal centerpiece.
Unless you're one of those people who leaves your Christmas lights up all year, you're probably used to coming home to a dark, uninviting front porch. Lucky for you, this beautiful ice lantern takes advantage of the cold weather, illuminating your porch in perfect winter fashion.
If you're really looking to make a change, consider giving your home a brand-new color scheme for the new year. Wallpaper, paint or even just a couple of fun throw pillows should do the trick.
One simple way to add some sparkle to your home is including a great mirror. Not only will it cast more light throughout the room, it will also serve as a great replacement to the fabulous Christmas-themed mantel you've been missing.
Not only is mixing metals super trendy for 2016 (see what these designers had to say), it's also a great way to add instant warmth to your home. If silver and gold is too bold for your taste, gold and bronze is a great first step.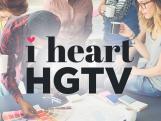 Get to know the talented writers and editors of HGTV's show and design blog. 
Go Behind the Blog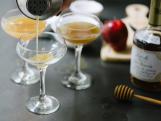 Take a look back at our past posts, from entertaining and design trends to up-and-coming HGTV shows.  
Read All Our Past Posts