Master Fourth of July With These Make-Ahead Party Tips
We're helping you enjoy your own party this year.
July has really snuck up on me this year. But to be honest, I'm okay with that since it means I get to celebrate the Fourth of July in only a matter of days! My family goes crazy for the Fourth. We're talking a collaborated family party with all our friends and family complete with tasty foods, refreshing summer sips and of course, a spectacular fireworks display. This year, I've decided to get ahead of the game by planning some important things I can do ahead of time in order to have more time on party day to relax and enjoy the day. Hopefully you can do the same!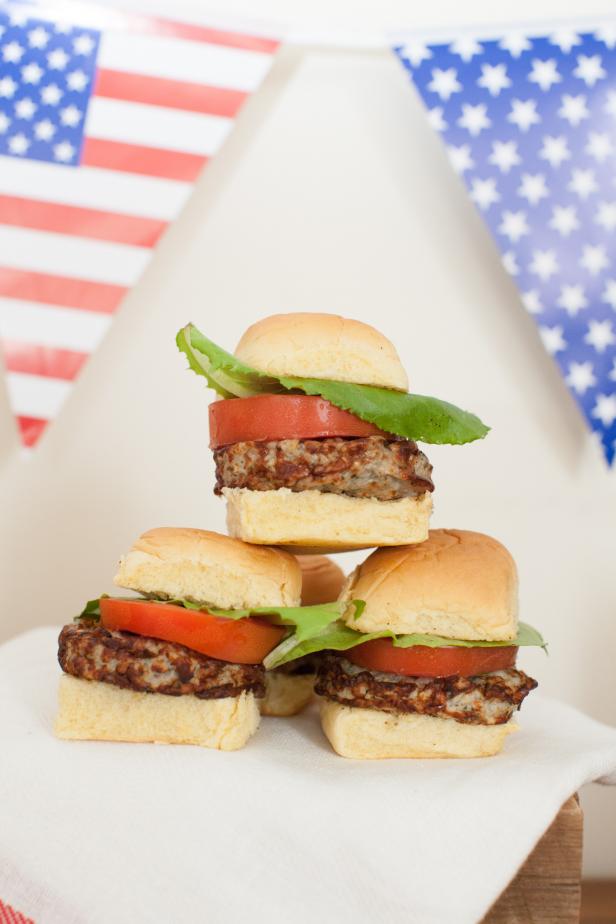 Fourth of July Burgers
No Fourth of July party is complete without burgers. Serve bite-sized sliders in lieu of large sandwiches so guests have plenty of room to eat all the other delicious food.
Cheyenne Mojica Photography
Certain things, like grilling your burgers, will need to be done at the party, but there are some ways to get a head start. For everybody's favorite main course, go ahead and mix up your hamburger (and bacon!) and form the patties. Then add your dry ingredients just before grilling for the most perfect, moist burgers.
Pro Tip: Wait until just before grilling to add salt to your burger, and only add it to the outside. Salt can actually break down and dissolve muscle proteins, resulting in a very dry, tough burger (And nobody wants that, right?).
Don't forget about the scrumptious sides. These tasty fruit skewers can be assembled the night before and refrigerated until the party. For an extra delicious twist, try tossing them on the grill and adding a ricotta cheese or yogurt dip.
To keep guests at bay while the burgers are grilling, serve up this delicious Greek salad dip. It can be easily prepared in advance, and refrigerating it overnight will only enhance the flavors. Served cold, it's also a great choice for a sizzling summer party.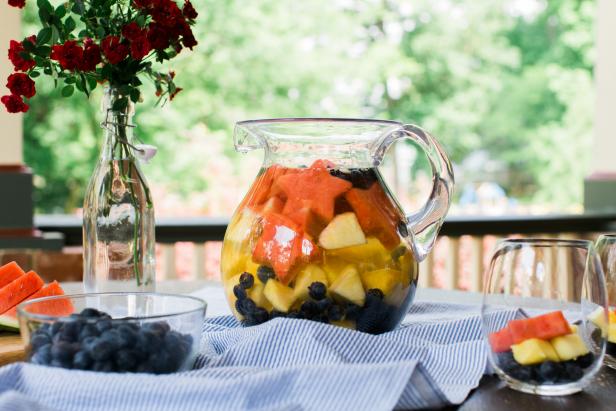 Red, White & Blue Sangria
This deliciously festive Red, White & Blue Sangria is the perfect colorful cocktail for your upcoming 4th of July get together!
Flynnside Out Productions
Now for the drinks. As the host or hostess, you probably don't want to be mixing drinks all day or night. Try a large-batch cocktail like this festive sangria, and you can mix it and forget it.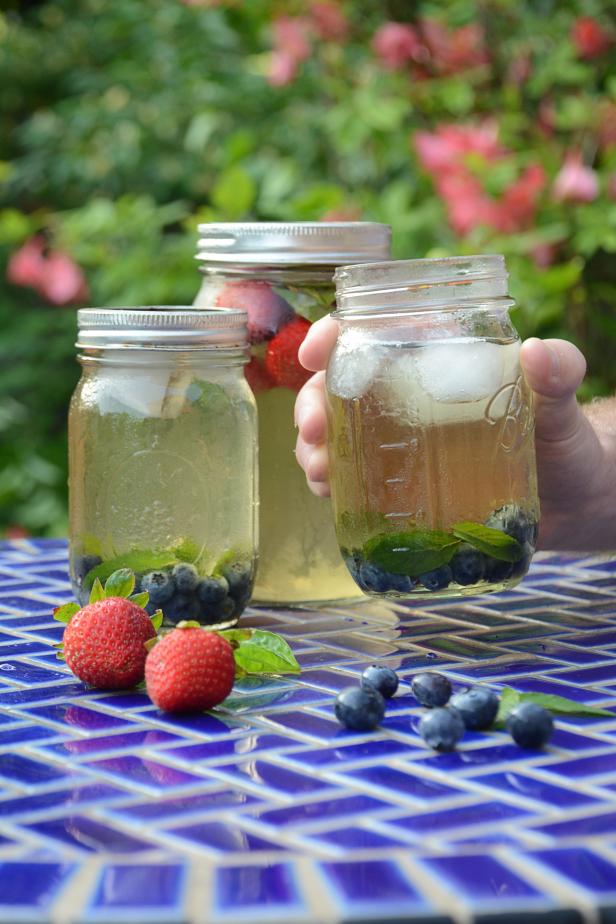 Garden Sun Tea
Sun tea is an easy and refreshing drink to serve your guests during a backyard party. Place a tea bag in each clean and sterile mason jar you plan to use for tea. (Prepare the jars just like you would before canning.) Fill with cold water and let the jars sit in the and steep for 2-4 hours. Remove the tea bag and place the jars in the fridge or on ice until ready to serve.
For your non-alcoholic option, homemade sun tea couldn't be tastier or more refreshing. In the morning before your party, add fresh herbs, berries, water and a tea bag to a Mason jar. From there, just let the sun do the work! Let your drinks steep for 2-4 hours, then remove the tea bag. Put them in the fridge, and they'll be ready by party time!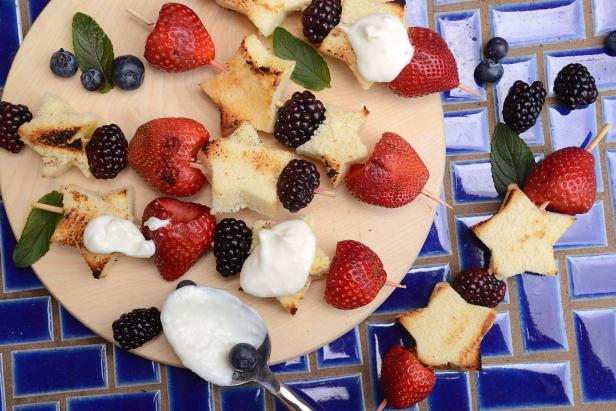 Grilled Strawberry Shortcake Recipe
To prepare for grilling your dessert, cut the tops off of the strawberries and use a cookie cutter to cut stars out of slices of pound cake. Place pieces of pound and berries alternately on the skewers until they are full. Grill over medium heat until your pound cake is lightly toasted and the berries are just beginning to soften. Cream together 4 ounces of softened butter and 4 ounces of softened cream cheese with 1 cup of powdered sugar, 1 tablespoon of milk and a teaspoon of vanilla extract. Serve with fresh off the grill cake and berries.
Now on to the best part: desserts! Both adorable and delectable, we love this innovative take on strawberry shortcake. For a shortcut, buy the cake at the grocery store and use a star-shaped cookie cutter to make the stars. Add strawberries and blackberries on a skewer and grill lightly on medium heat just until the pound cake is slightly toasted. Serve with fresh cream, and your guests will be delighted.
I'm already drooling over this lemon curd tart. Topped with berries, it can be made ahead of time and chilled in the fridge until your party. Bonus: it's surprisingly easy to make!
You can pretty much count on the Fourth of July to be toasty. Cool down your guests with these patriotic ice pops (which of course, you have to make ahead of time). Three colorful layers consisting of raspberry puree, creamy yogurt and blueberry puree look just as good as they taste!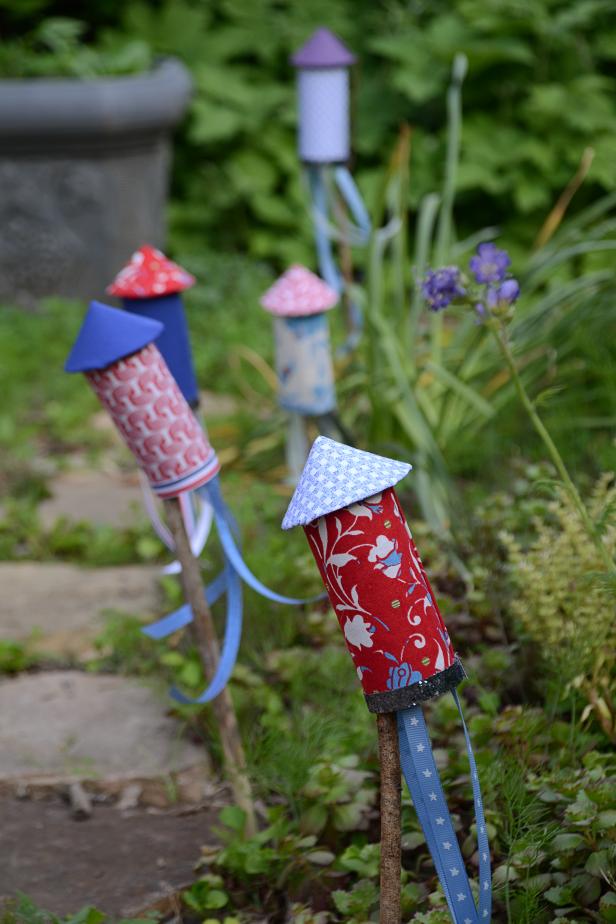 Fabric Rockets
You can make lovely fabric rockets by covering an empty toilet paper roll with fabric. Cut a cone out of paper, or use a cone shaped paper cup and cover with fabric for the top. Hot glue the pieces together, and glue some ribbons to the bottom of your rocket. You can decorate with more ribbons, fabric or paint, or leave them as is. Line the walkway to your party with little rockets, or hang them from the trees and let them blow in the wind!
Whether you're shooting off real fireworks or not, these sweet fabric-covered rockets are the perfect easy accessory for any Fourth of July party. Bonus: This is also a great way to upcycle old toilet paper rolls! Just cover the toilet paper roll with festive fabric, and add a cone on top (create your own cone shape or use a cone-shaped paper cup). Hot glue the pieces together, adding ribbon for extra flair!
After you line your walkway with adorable rockets, make a few for a fabulous fireworks-inspired wreath. Also incorporate matching pinwheels in varying sizes for a patriotic wreath that will definitely impress your guests.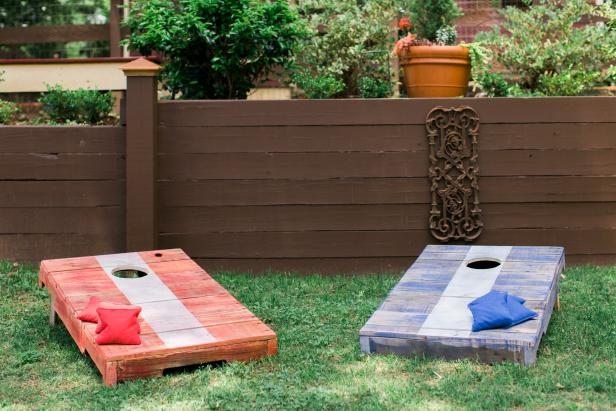 How to Make a Corn Hole Game From Pallets
Liven up your next backyard bash with this vintage inspired corn hole game made from old wooden pallets.
Flynnside Out Productions
You definitely don't want to save coming up with entertainment ideas until the day of the party or you'll likely find yourself racing from store to store looking for affordable outdoor games. Not ideal on your day off. Instead, consider a few classic yard games that all your guests will love. We adore these red, white and blue cornhole boards, and you can even make them yourself out of old pallets!
Or, if guests are staying late, a midnight screening of "Independence Day" might be the perfect way to celebrate the day. Keep the party outside with a homemade movie screen you can use again and again.
Will you have kids at your party? Let them have some fun of their own with a DIY water slide. All you'll need is a long tarp and a water hose for a warm-weather activity the kids will be looking forward to every year!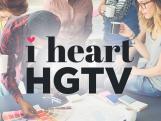 Get to know the talented writers and editors of HGTV's show and design blog. 
Go Behind the Blog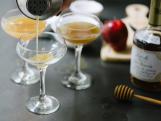 Take a look back at our past posts, from entertaining and design trends to up-and-coming HGTV shows.  
Read All Our Past Posts