11 Things You Can Repurpose as a Holiday Centerpiece
Skip the trip to the florist and make an easy centerpiece for your holiday table using items you already own (or can pick up for cheap).
If your flower arranging skills are as, um, underdeveloped as mine are, browsing photos of beautiful holiday centerpieces can be a bit intimidating. Luckily, not all centerpieces have to involve an elaborate floral arrangement — in fact, you can even throw together a festive tablescape using items you probably already have in your house (or in your backyard). This year, dress up your holiday table with one of these quick, easy and budget-friendly ideas.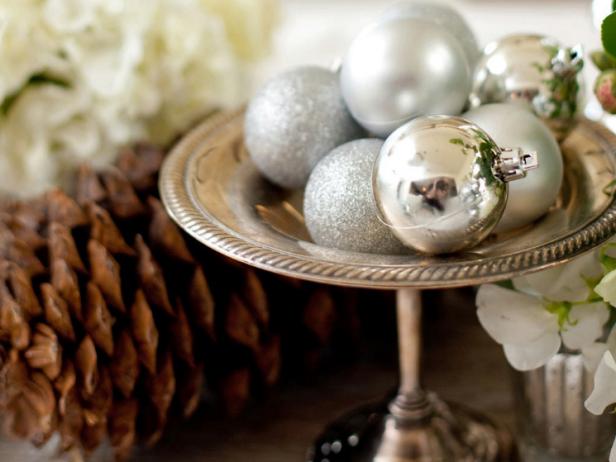 Ornamental
To add a sense of festive abundance to the table, get creative with non-floral centerpieces that can be used for a holiday wedding. Classic silver ball ornaments add interest when piled high in a silver compote or displayed in apothecary and bell jars. Fill in any empty spaces with mercury glass votives, taper candlesticks, additional ornaments and oversized pinecones. Design by CamilleStyles.com
© She-N-He.com, She-n-He Photography
Is your Christmas tree overflowing with too many ornaments? Remove some of the extras and put them to better use as a centerpiece. Choose complementary colors, or keep it monochromatic and mix a variety of shiny, matte and glittery finishes, as entertaining expert Camille Styles did here. Display the ornaments on a platter, in a bowl or in large glass vases.
Andrew McGary, © 2014 HGTV/Scripps Networks, LLC. All Rights Reserved
A cake stand is a versatile starting point for a centerpiece; you can fill it with ornaments, seasonal fruit or take a cue from HGTV Crafternoon's Marianna Canada and transform it into an oversized snow globe. Just add battery-powered LED lights, Epsom salt "sand" and mini bottle brush trees. Watch the video below for step-by-step instructions.
Snow-Globe Centerpiece
01:36
Marianne shows how to create a whimsical snow globe from a cake stand.
As you're wrapping gifts for friends and family, you're bound to end up with some leftover boxes and paper. Turn the extras into a stylish table display a la designer Michelle Edgemont by wrapping the boxes in coordinating paper, stacking them from largest to smallest and tying them together with a luxurious silk ribbon.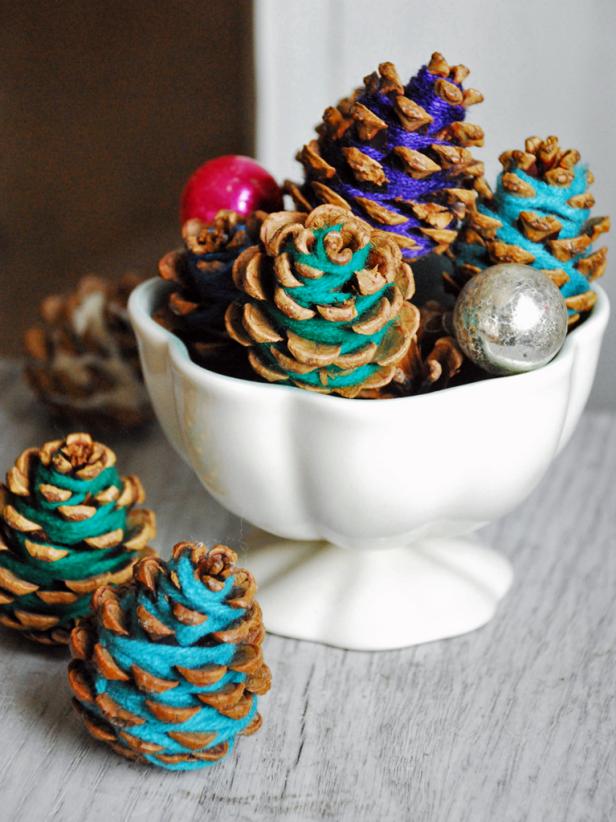 Yarn-Wrapped Pinecones for the Holidays
Add a different spin to your holiday decor with these simple, colorful pinecones. All you need to do to create this look is wrap bright strands of yarn around pinecones — no glue required. They make perfect embellishments for gifts or placed in a bowl as a centerpiece. Design by Camilla
Forage your backyard for pinecones to create a super budget-friendly centerpiece (or you can pick some up at a craft store). Left as-is, they bring a beautiful touch of nature to your table. For a splash of color, consider wrapping the pinecones with yarn, as blogger Camilla Fabbri did here.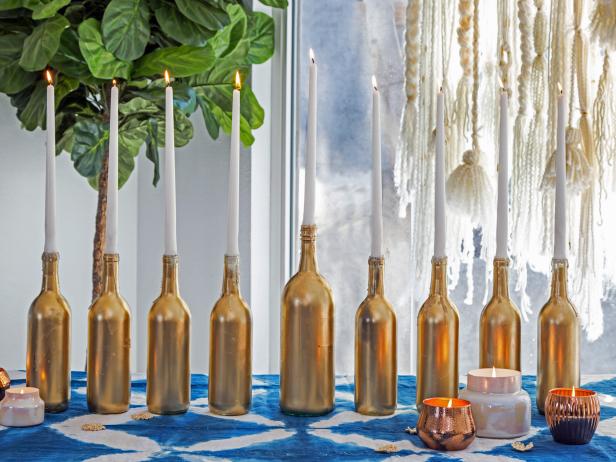 Chic Bottle Menorah
Spray paint empty wine bottles gold to create your own beautiful menorah centerpiece. You'll need one bottle for each of the eight nights of Hanukkah as well as a larger bottle for the Shamash candle, which is used to light the other candles.
Bethany Nauert; Styling by Paige Geffen
Instead of recycling empty wine bottles, upcycle them into a beautiful menorah centerpiece for a Hanukkah party, like designer Erica Reitman did here — all you need is gold spray paint and taper candles. You'll need one bottle for each night of Hanukkah, as well as a larger bottle for the Shamash candle, which is used to light the other candles.
Twig and Berry Wreath Dresses Up Dessert Table
Wreaths are excellent sources for adding color and texture to holiday tablescapes. Consider placing vessels inside coordinated wreaths for added layers of visual interest throughout the table. Here, a dessert is elevated to new heights with a twig and berry wreath placed around its vessel.
If you have an extra holiday wreath and nowhere to hang it, try laying it flat on your table instead. In the center, place a few pillar candles of varying heights or, as designer Brian Patrick Flynn did here, use it to highlight a delicious-looking dessert.
DK - A Greener Christmas, 2008 Dorling Kindersley Limited
Upcycle old terra cotta pots into stylish, festive candleholders. Line the base of each with recycled aluminum foil, put a beeswax candle in the center, pack sand around each candle and cover the sand with a pretty arrangement of fresh foliage and bright berries.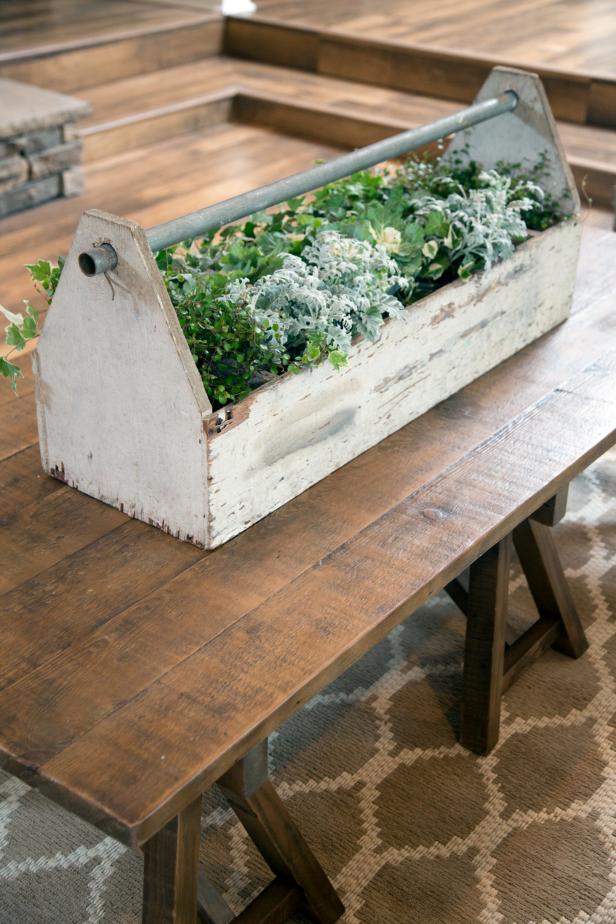 Greenery in Old Wooden Tool Box
A centerpiece of fresh greenery is planted in an old wooden tool box on the coffee table in the newly renovated living room.
Fixer Upper's Joanna Gaines upcycled an old wooden toolbox, but any vintage or old-looking wooden box will do, really. Just fill your container with fresh greenery and you have an instant rustic-chic centerpiece.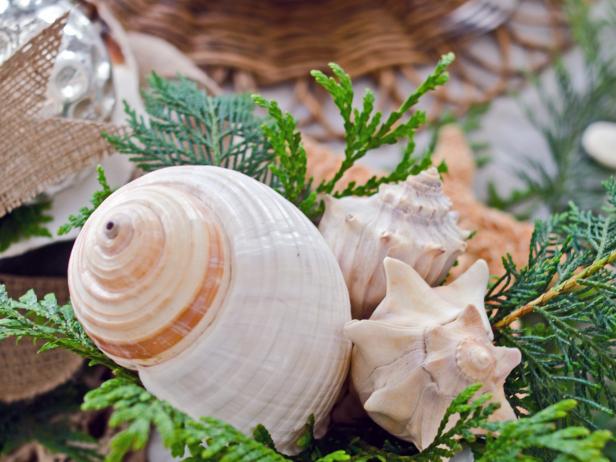 Coastal Christmas Seashell Centerpiece
A coastal holiday centerpiece features evergreen fronds and seashells.
For a coastal Christmas tablescape, pair seashells with sprigs of fresh greenery and burlap ribbon. If you don't live by the shore, pick up some shells at a craft store. Design by Marian Parsons.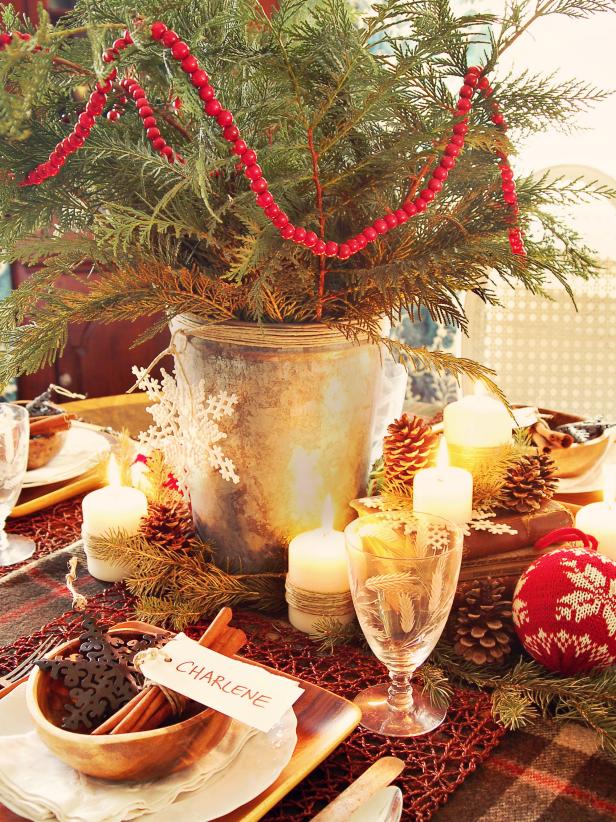 Rustic Holiday Centerpiece
Forget the florist — this centerpiece starts with evergreen branches you can clip from your yard. Place fresh boughs in a galvanized bucket and swag a wooden bead garland around the greens, then layer homespun items at the base of the vase, like snowflakes, knit "sweater" ornaments, twine-wrapped candles, fresh greens or pinecones.
To copy this rustic yet elegant centerpiece by Marian Parsons, start with a galvanized bucket filled with fresh evergreen branches clipped from your yard. Next, layer pinecones, twine-wrapped candles and knit "sweater" ornaments around the base of the bucket to complete the look. If you don't have a galvanized bucket handy, you can pick one up for cheap at a home improvement store.
Who doesn't end up with tons of leftover candy canes around the holidays? Use them up by crafting this playful centerpiece by Michelle Edgemont. First, hot glue unwrapped candy canes to the bottom of a wooden plate. Crush a few more candy canes and glue those pieces around the bottom of the standing canes.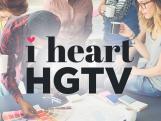 Get to know the talented writers and editors of HGTV's show and design blog. 
Go Behind the Blog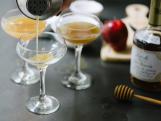 Take a look back at our past posts, from entertaining and design trends to up-and-coming HGTV shows.  
Read All Our Past Posts