8 Ways to Use Holiday String Lights All Year Long
You don't have to give up that twinkly goodness just because Christmas is over. Incorporate festive holiday string lights into your everyday decor with these projects and ideas.
If you're like me, your house looks its best around Christmas, decked out in glittering ornaments and twinkling lights. Once January rolls around and the festive decor starts to come down, things can look a little drab. If you have the post-holiday decorating blues, keep those string lights out of storage and tackle these projects that'll give your home a warm glow year round.
If you're handy with a drill, you can make this impressive DIY headboard complete with a lighted moon. In a kid's bedroom, the string lights serve as a built-in nightlight.
If bare walls have your home looking a little "blah," put string lights to work. In this family room by Justin DiPiero, a zigzag of lights looks like a sculptural installation above the sofa and softly illuminates the space.
Give your outdoor space an enchanting glow by stringing lights around your deck or patio. Complete the ambiance by placing a few lanterns around your seating areas or hanging them from trees.
Make Out-of-This-World Art
How cool is this lighted wall art? Pick your favorite constellations, paint them onto a piece of plywood, drill holes for the stars and push twinkle lights through the holes. Hang on a wall and wow all of your guests.
Highlight Your Wine Collection
In this basement, Sawhorse Design & Build bordered a custom, built-in wine rack with string lights, but you could apply the same principle to just about any wooden rack. This simple idea transforms a storage feature into an eye-catching focal point.
Trendy marquee signs can be expensive to buy (either new or vintage), so why not DIY? Use larger globe string lights to make this oversized letter featured in HGTV Magazine, or smaller lights to make a mini marquee letter.
A string of lights adds instant dreaminess to any child's bedroom or playroom (or, heck, even an adult's room). In this amazing kids' space designed by Chango and Co., string lights are draped over a teepee so it glows within, creating the perfect spot to nap or curl up with a book.
Accentuate Your Fireplace
When the weather heats up and you no longer need the warmth of a fire, you don't have to completely neglect your fireplace; try wrapping logs with string lights for a glow you can enjoy year round. Here, designer Brian Patrick Flynn dressed up a fireplace with white LED lights.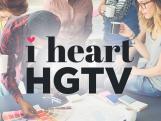 Get to know the talented writers and editors of HGTV's show and design blog. 
Go Behind the Blog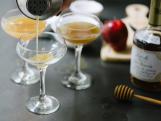 Take a look back at our past posts, from entertaining and design trends to up-and-coming HGTV shows.  
Read All Our Past Posts