Take Your Wall Decor to New Heights With Murals
Want to do something dramatic with that big, blank wall in your home? Creating a custom wall mural from your own photos or artwork is easier than you might think.
The HGTV Dream Home 2016 is beautiful with plenty of eye-catching features, but the detail that caught my attention most was the huge wall mural in the living room created from a vintage photo of surfers negotiating a wave. I've seen my share of gallery walls and overscaled art, but this one took me by surprise.
Not only is this a creative way to turn a blank wall into a personalized, showstopping feature, but it's also not too DIYWSH (that's my short-hand for DIY with some help). The mural at the HGTV Dream Home actually isn't that different from the ubiquitous vinyl wall decals featuring quotes or cute designs.
Rather than purchase the wallcovering from a home goods store or Etsy.com, you'll need to get in touch with a company that makes custom signs like wall decals for other businesses or giant advertising banners. You provide them with the photo or design that you want turned into a vinyl wall mural and the dimensions for the mural, and they'll handle the printing part.
A small mural might run you about $75, while a larger mural could cost a few hundred dollars, which may end up being cheaper than amassing pieces for a gallery wall or purchasing overscale art and then having it professionally framed.
The trickiest part is hanging your new artwork. Some murals are printed on self-adhesive vinyl, which requires removing the backing and adhering the mural to the wall. Others will need special adhesive added, resulting in an installation a process that is very similar to hanging wallpaper. Either way, at minimum you'll want some extra hands to help you hang things straight and evenly. HGTV Dream Home designer Brian Patrick Flynn shows you how to tackle this part:
How to Turn Your Photos Into a Wall Mural
03:08
Vinyl wall coverings aren't your only option for creating a custom wall mural. Companies like Spoonflower.com print custom wallpaper if you're looking more for a pretty design pattern and less for a gigantic replication of a photo or art.
Another option is to use painted fabric. Cecilie Starin enlisted the help of San Francisco street muralist, Ian Ross, to paint long pieces of fabric with black-and-white spray paint, which she then hung on the walls of the dining room seen above for a fresh, urban look.
Take a look at these other rooms that use wall murals to stunning effect: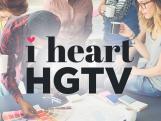 Get to know the talented writers and editors of HGTV's show and design blog. 
Go Behind the Blog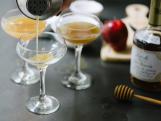 Take a look back at our past posts, from entertaining and design trends to up-and-coming HGTV shows.  
Read All Our Past Posts