Take a Look at the Unexpected Materials at the San Francisco Decorator Showcase
A marble island with wood countertop? Wood cabinetry? The surfaces in the 2016 San Francisco Decorator Showcase kitchen and dining room are not what they seem.
Even though it's always been a popular surface material, marble seems to be having a moment as the luxury countertop of choice in kitchens. And I get it — it's a beautiful, natural material that never seems to go out of style and goes with just about everything. It's like the little black dress of stone.
But as someone who loves to cook (and tends to be especially messy when doing so) and hates to clean, I've always considered marble too impractical for the kitchen. It's incredibly porous, so if it's not sealed correctly and regularly it's going to absorb that red wine you've spilled on it. Plus, it scratches and chips easily. Don't even think about letting those knife blades come in contact with marble.
When I entered the kitchen at the San Francisco Decorator Showcase last week, my first reaction was, "Well, it's pretty." I thought I was looking at yet another high-end kitchen with mostly impractical marble and wood countertops. Turns out, I was completely wrong.
As designer Martin Kobus walked me through the room, I began to realize just how remarkable the space was and how badly I wanted this kitchen to be my own.
First off, that island? It's made of Neolith porcelain that's cast to look like marble. Standing right next to it, I would still swear that it was the real thing. To touch, it feels more like a quartz or any other solid-surface countertop rather than the rougher feel of marble.
The real beauty of porcelain countertops is their durability. They're resistant to scratches, abrasion, heat and chemical cleaners. They are easy to clean and do not absorb liquids — without needing to be sealed. On top of that, these particular counterops are made entirely of natural materials and are completely recycleable. And the price is comparable to other solid-surface materials like granite and quartz.
Same goes for the island's fin countertop and the cabinetry, which aren't wood at all. They're made from Swiss Krono resin and cast to have the look and texture of wood grain but have all of the resistance to wear and tear that the porcelain counters have.
Neither of these materials is new, but it's remarkable how far they've come in recent years to compete with the more traditional high-end materials.
Martin and his team also designed the dining room at the 2016 Showcase, which was the room everyone seemed to congregate in during the time we spent at the house. It was hard to pick a favorite feature here from among the West Elm chairs upholstered in recycled canvas sourced from Army tents, the Halo Pendant light or the view out the window of the San Francisco Bay and Alcatraz.
But one thing in particular that jumped out at me was the floral screen print artwork from Elitis hanging over the sideboard cabinet. Do you see the reflective quality on it? It's printed on nylon mesh, the same kind of mesh you might end up with if you buy a large bag of oranges or onions. While the artwork itself may be on the pricier side, nylon mesh is cheap and easy to come by. Something to think about if you're ever commissioning an art piece of your own.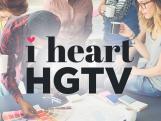 Get to know the talented writers and editors of HGTV's show and design blog. 
Go Behind the Blog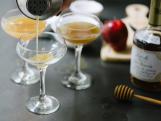 Take a look back at our past posts, from entertaining and design trends to up-and-coming HGTV shows.  
Read All Our Past Posts