Tour This Stunning, Organically Inspired Cottage Home on Martha's Vineyard
Liz Stiving-Nichols and Lauren Morgan of Martha's Vineyard Interior Design removed a wall and made subtle design decisions to embrace the inspiring views of the Atlantic Ocean in this beautiful beach cottage.
When embarking on a renovation of a Martha's Vineyard home so close to the waters of the Atlantic that you could practically do a cannonball from the deck, designers Liz Stiving-Nichols and Lauren Morgan knew the view deserved to be front and center.
"We're fortunate to work on a lot of projects that have really amazing views so we want to make sure what we do doesn't fight that," Liz says.
Prior to the renovation, the cottage included a long, narrow hallway that stretched from the entrance of the home and blocked the sightline to the water from spots in the home's public living spaces.
Liz and Lauren knew they wanted to remove the walls of the hallway in order to celebrate the natural surrounding, but they met some initial resistance from the homeowners who wanted to use one of the walls as a spot for the TV. The pair designed a built-in credenza for the TV.
With the television taken care of, Liz and Lauren worked with contractor Jared Kent to remove the hallway walls and add a false beam to give the now-open living space a finished look.
The team prefers to maintain a neutral palette to keep the design from competing with the views, so they selected a warm white paint color to cover walls that were yellow and upholstery with linen tones. Small pops of sunset- and ocean-inspired colors were introduced with throw pillows and the dining room chairs.
Organic design isn't just about honoring the look of a home's surroundings; it's also important to embrace the way a home lives in its environment. Liz and Lauren relied on indoor-outdoor fabrics for furniture and heavy-duty rugs that can withstand rough traffic that comes with being a beach home.
"It makes things practical," Liz says. "Practical doesn't have to mean not beautiful."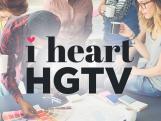 Get to know the talented writers and editors of HGTV's show and design blog. 
Go Behind the Blog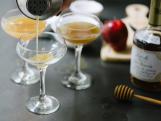 Take a look back at our past posts, from entertaining and design trends to up-and-coming HGTV shows.  
Read All Our Past Posts