15 Design Trends From the '90s We're Totally Digging Right Now
Feeling nostalgic? Relive the 90's with these interior design favorites that set the stage for the many of the looks we love today.
This week's highly anticipated Netflix release of the new original series Fuller House — a revamp of my all time favorite sitcom, Full House — has me reminiscing about '90s design. From the graphic colors and patterns to the neutral Japanese-inspired spaces that defined the latter part of the decade, '90s home decor was oh-so-innovative and unknowingly paved the way for many of the looks we love today. If you're feeling a little nostalgic, check out these modern takes on our favorite design trends from (gulp) more than 20 years ago.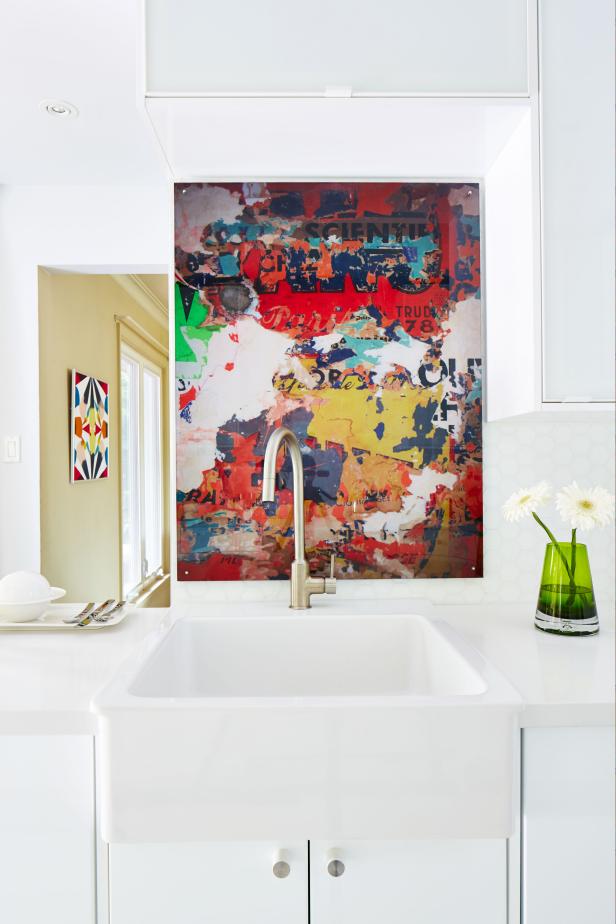 Original Art Backsplash From Sarah Sees Potential
As seen on season 1 of Sarah Sees Potential , designer Sarah Richardson added color to an all-white kitchen with a unique backsplash made from a piece of original modern artwork — a photo of graffiti in the Paris Metro.
An offshoot of the late '80s bright neon hues, playful, graphic pops of super-saturated primary colors were an early '90s staple. Today, these bold pigments can be found in trendy, color-blocked rooms, eclectic accent pieces and more. Here, designer Sarah Richardson added a fresh, contemporary feel to an otherwise simple all-white kitchen with a colorful, graffiti-inspired backsplash.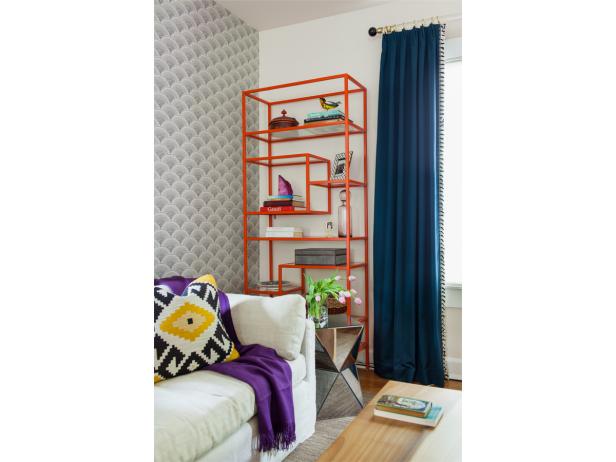 Geometric Shelving Unit in Bold Orange
A bright orange shelving unit with a geometric design displays an assortment of accessories, brining personality to this living room. The unit's bold orange hue pairs nicely with the vibrant purple throw and royal blue curtains.
Also a late '80s carryover trend, edgy geometric-print wallpaper, rugs, bedding and more were dominant in the early part of the decade. This trend has held its own over the years and can still be found in bold accent pieces like this fun Aztec-inspired throw pillow and orange geometric bookshelf from Kate Maloney Albiani.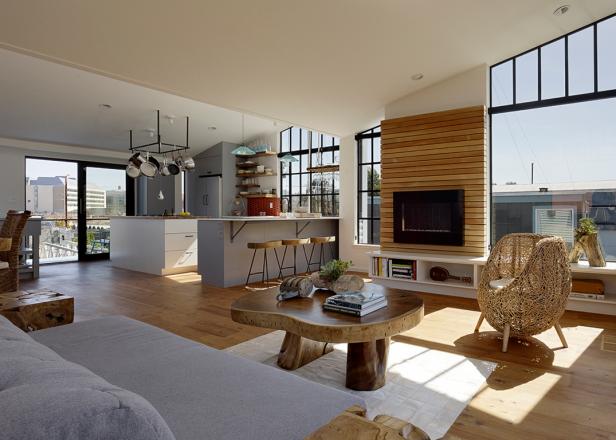 Floating House: Great Room and Kitchen
The saw-tooth roof design and the low-slung furniture makes this great room feel open and spacious. Open metal shelves suspended from the kitchen ceiling eliminate wall cabinets--this allows for more windows and a more open feeling everywhere. The open metal work of the pot rack, the windows and the bar stools create a light, airy feeling.
Although dark hardwood has reigned supreme the last few years, its blonde counterpart is making a comeback in a big way. Designer Robert Nebolon infused this streamlined modern home with warm natural wood floors, a wood fireplace surround and a fresh mix of light wicker and live-edge furniture. The HGTV crew loved it so much, they named it the overall winner of HGTV's 2015 Fresh Faces of Design.
When paired with bright neons or rich jewel tones, these cool '90s hues are super hot. Not convinced? Pantone chose a blend of two pretty pastels — Rose Quartz and Serenity — as their 2016 Color(s) of the Year.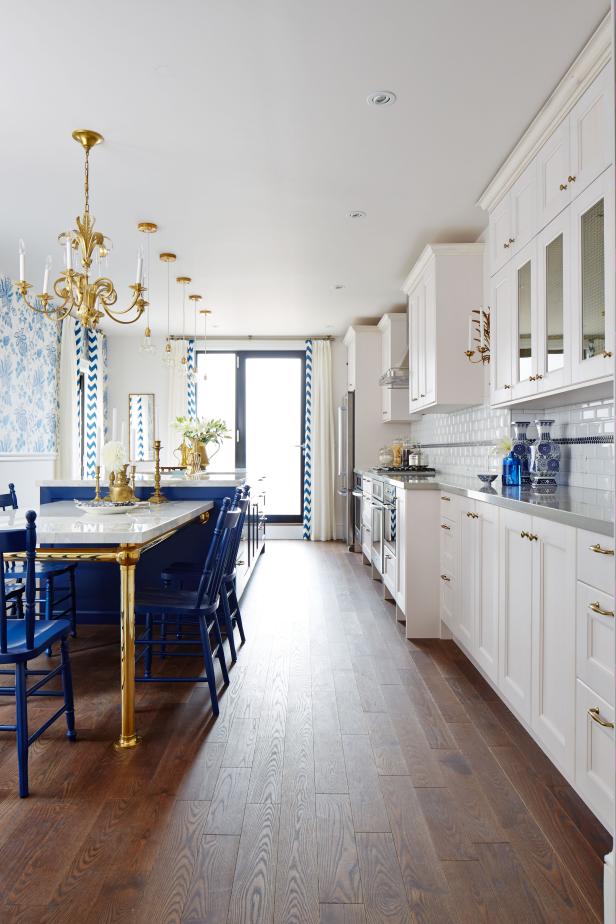 Traditional Eat-In Kitchen With Blue Accents From Sarah Sees Potential
As seen on season one of Sarah Sees Potential , designer Sarah Richardson removed a wall between a cramped kitchen and extra bonus room in this century-old home to build a gorgeous, roomy eat-in kitchen stocked with modern amenities. The original kitchen was completed gutted to make room for custom white cabinets, a subway tile backsplash, an enormous island with attached dining table, and stainless steel appliances. Oiled-finished wood flooring and brass accents complete the room's traditional, antique look.
Stacey Brandford Photography
The shiny brass fixtures of the '90s paved the way for the warm metal accents we love today. In this traditional kitchen, weathered antique brass adds charm and contrast to this blue and white space.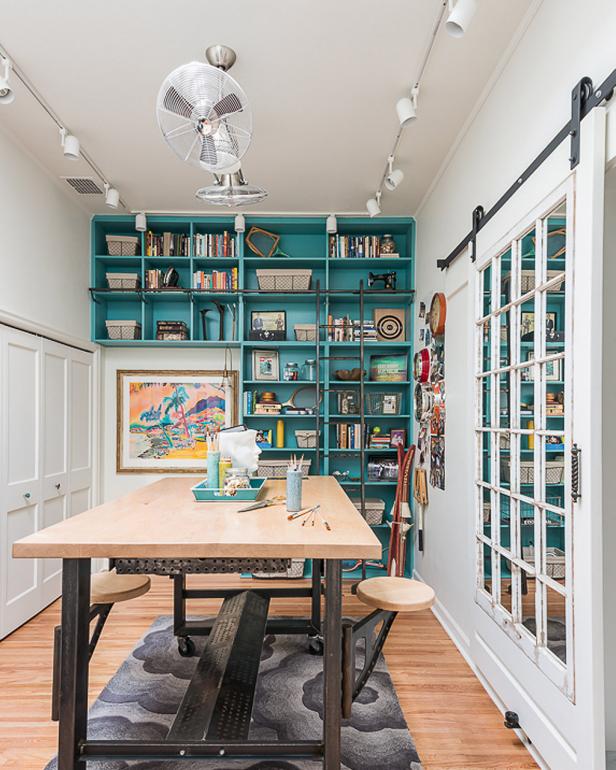 Eclectic Crafts Room With Turquoise Booksehlf
Track lighting is perfect for performing tasks around the large crafts table, while a built-in bookcase stores supplies, books and art work.
This industrial trend gained popularity in the early '90s and has been going strong ever since. Today, track lights run the gamut from slim and chic varieties to bold and utilitarian types like the ones found in this eclectic Abby Hetherington design.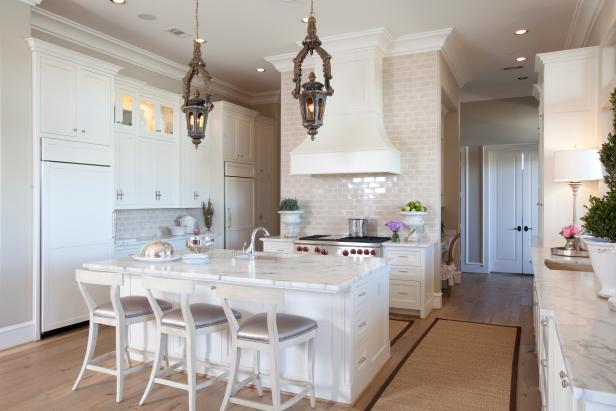 Breathtaking Kitchen With Lantern Pendants
Mediterranean-style pendants above the marble-topped island yield a visual tension that balances classic beauty with exotic charm.
We loved them then and we love them now. These minimalistic, all-white spaces caught on just before the middle of the decade as the popularity of bold primary colors began to wane. This clean look is still a top choice in modern kitchen design with classic, practical materials like white marble countertops and white subway tile at the helm.
Say goodbye to the frilly window valances and floral wallpaper borders of the '90s and say hello to streamlined, modern farmhouse style. Designers such as Fixer Upper's Joanna Gaines have transformed this classic trend, infusing charming rustic spaces with streamlined elements for a modern, lived-in look.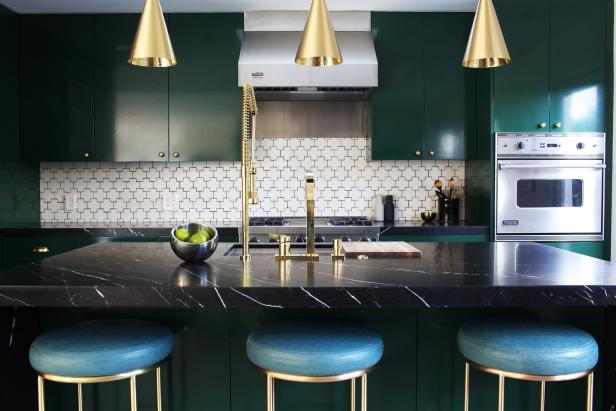 Green and White Eclectic Kitchen With Brass Pendants
With deep hunter green cabinetry and a Swiss cross-tile backsplash, this eclectic kitchen is fresh and imaginative. Brass pendants hang above the Nero Marquina marble island and tie in with the brass faucets.
This sophisticated hue added a lush, library-esque vibe to late '80s/early '90s homes. We're currently loving an emerald-infused version of this classic green, especially when paired with brass and black-and-white accents like in this chic kitchen from Caitlin McCarthy Designs.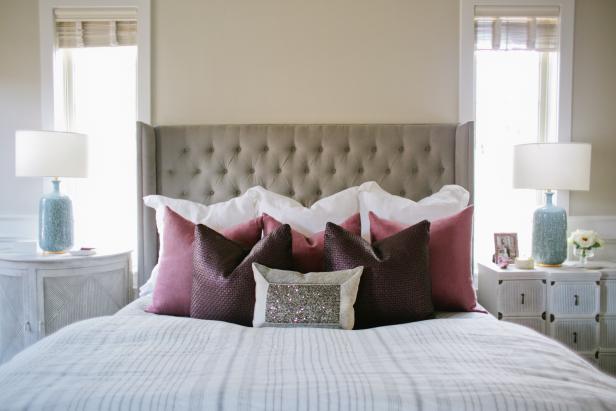 Peaceful Master Bedroom Features Plum & Mauve Pillows and Tufted Headboard
This dreamy master retreat exudes a calm color palette with pops of plum, mauve and light blue in the accessories. A sequined pillow adds a touch of pizzazz to the bed.
Although the all-mauve-everywhere trend is a thing of the past, this pretty purple-pink hue is currently making a splash in the form of accent decor, statement furniture and even wallpaper.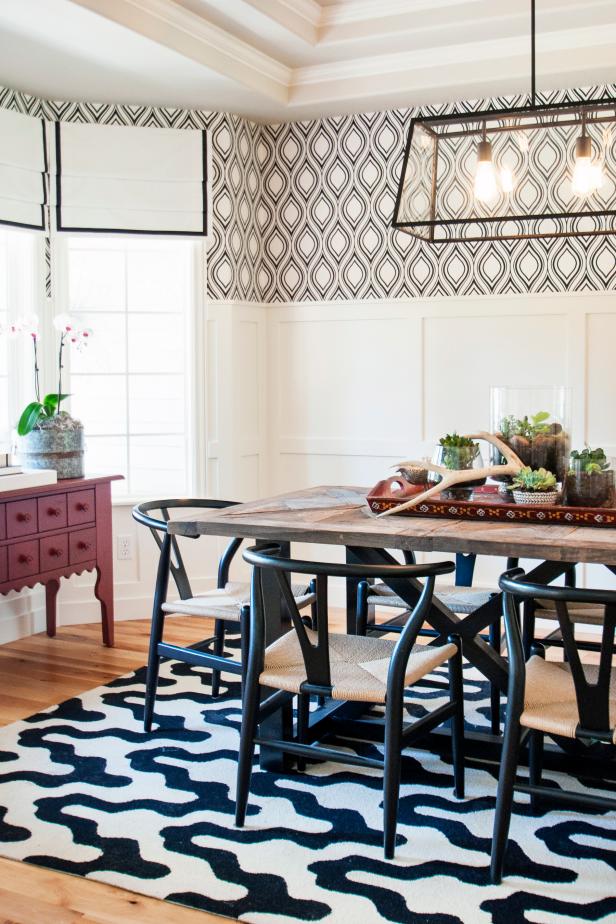 Black and White Dining Room Features Funky Patterns
This stunning dining room is anchored by a farmhouse table and chairs reminiscent of midcentury modern design. Black and white wallpaper and a rug are the can't-be-missed design elements in the room, and the color scheme is echoed in the window treatment, light fixture and chairs. Botanicals and antler horns bring nature indoors, and the red tray and table add a punch of color.
Allison Corona Photography
From Madonna music videos to vintage-style checkered tile flooring, sleek black-and-white designs were so vogue in the early '90s. This Judith Balis dining room offers a fresh, modern take on the classic look by mixing mauve furniture and light wood flooring with fun, patterned wallpaper and a textured black-and-white rug.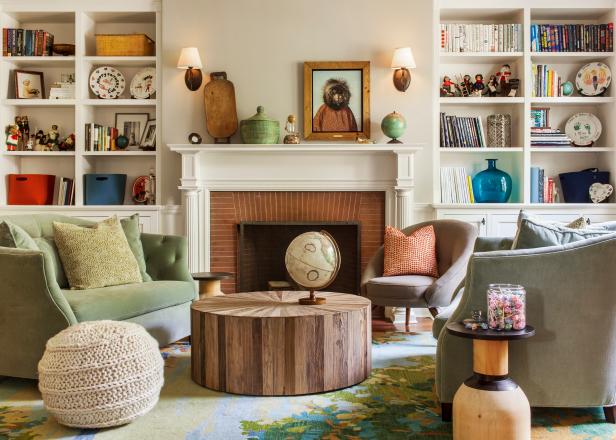 Neutral Living Room Features Fresh Transitional Design
This living room boasts a fresh, young vibe that is appropriate enough for the adults in the house yet quirky enough for the kids. A traditional fireplace and classic built-in bookshelves pair with clean-lined furniture pieces for a lovely transitional design.
A far cry from '90s chintz, today's floral-print fabrics are fresh, bold and oh-so pretty. Oversized watercolor flowers make a statement on this contemporary white sofa and are a bright complement to the chic indigo wall paint.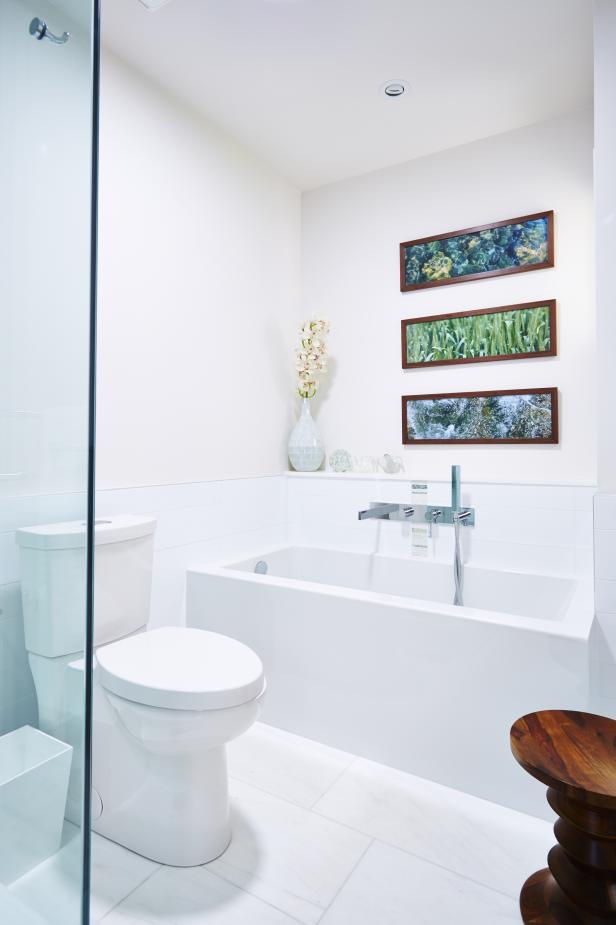 Sleek Spa Bathtub From Sarah Sees Potential
As seen on season 1 of Sarah Sees Potential , designer Sarah Richardson created a cozy, relaxing corner in this spa bathroom with a sleek soaking tub and built-in ledge perfect for holding candles or a glass of wine. A small, linear gallery wall adds color to the monochromatic space and boosts the room's spa-like ambiance.
Similar to the white kitchen trend, these minimalistic, Japanese-inspired spaces were a welcome deviation from the loud hues and oversized furniture of the early part of the decade. Neutral colors, minimal decor and natural elements, like those found in this chic spa bathroom, are this trend's key components.
Floral, geometric or country-inspired wallpaper (with borders to match) could be found everywhere in many '90s homes. This trend has once again found its footing but with a whole new look. We're currently digging wallpaper in fun, vintage-inspired prints and colors like this elegant art deco design from Graham & Brown.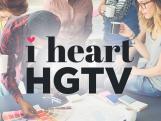 Get to know the talented writers and editors of HGTV's show and design blog. 
Go Behind the Blog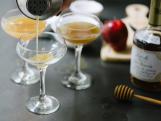 Take a look back at our past posts, from entertaining and design trends to up-and-coming HGTV shows.  
Read All Our Past Posts