Spruce Up Your Entryway for the Holidays With These 15 Festive Decorating Ideas
These festive DIY entryway decor ideas are guaranteed to wow your guests the moment they step through the front door this holiday season.
As the holidays quickly approach, many of us are scrambling to get our homes guest-ready. While putting up the tree and decorating the mantel are no-brainers, the place we often forget to decorate is the first place people see when they walk into our homes. No worries! We've got you covered with festive DIY decor ideas to help get your entryway or foyer in top shape for hosting this holiday season.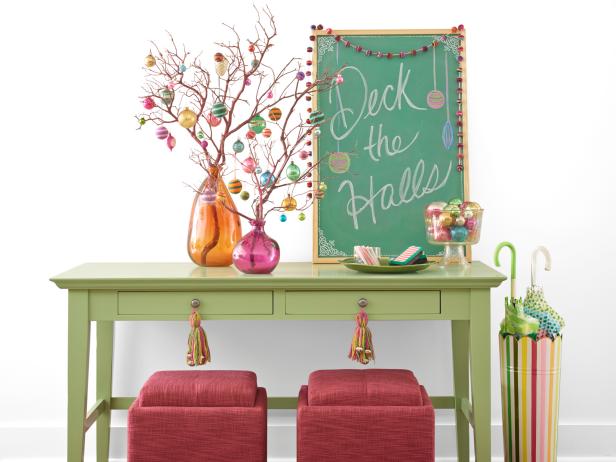 Deck the Halls Entryway
Chalkboard: Economy Series 36" x 24" wood-frame chalkboard, $24, lionsdeal.com; Garland: Cody Foster & Co. Bright Winter 6'-long wool garland, $70, abchome.com; Vases: 20"H x 8 1/2"-diameter balloon vase in orange, $58, and 8"H x 6 1/2"-diameter balloon vase in fuchsia, $23, both shiraleah.com; Branches: Manzanita branches, $9 each, save-on-crafts.com; Ornaments: Cody Foster & Co. Felted Swirl ornaments, $4 each, rockpaperscissorsshop.com
A foyer table is the perfect place to show off your prettiest Christmas decorations. In this colorful display from HGTV Magazine, seasonal branches are trimmed with bright metallic ornaments and are a fun, modern complement to a vintage chalkboard statement piece.
Make a Mobile Christmas Tree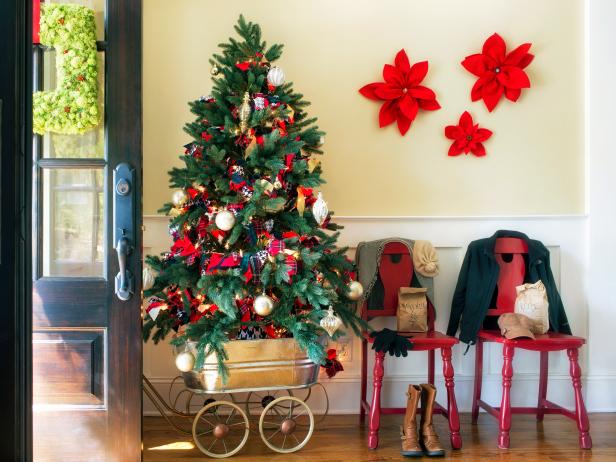 Traditional Entryway Decorated for the Holidays
A miniature Christmas tree and poinsettia wall art are classic decorations in this cheerful holiday entryway
Add natural holiday flair to your foyer with a mini tree on wheels. Once guests have settled, you can move the tree to the dining room or other small spaces to be enjoyed throughout the evening.
Make a Mobile Christmas Tree
02:54
Britany Simon shows how you can make your own mobile Christmas tree.
Space under the tree is at a premium these days. Add holiday cheer to your entryway and clear up some space in the living room by storing wrapped gifts in decorative groupings on one side of your staircase.
Wintry Twig-Embellished Mirror
Craft this DIY twig mirror to hang above your entry table or other wall space for a wintry update that looks great all season long.
Coordinate With Everyday Home Decor
For a simple, elegant look, coordinate entryway decorations to match your everyday decor. In this small foyer, understated mercury glass candle holders, a small potted tree and fresh flowers perfectly complement the home's neutral palette.
Put Christmas Cards on Display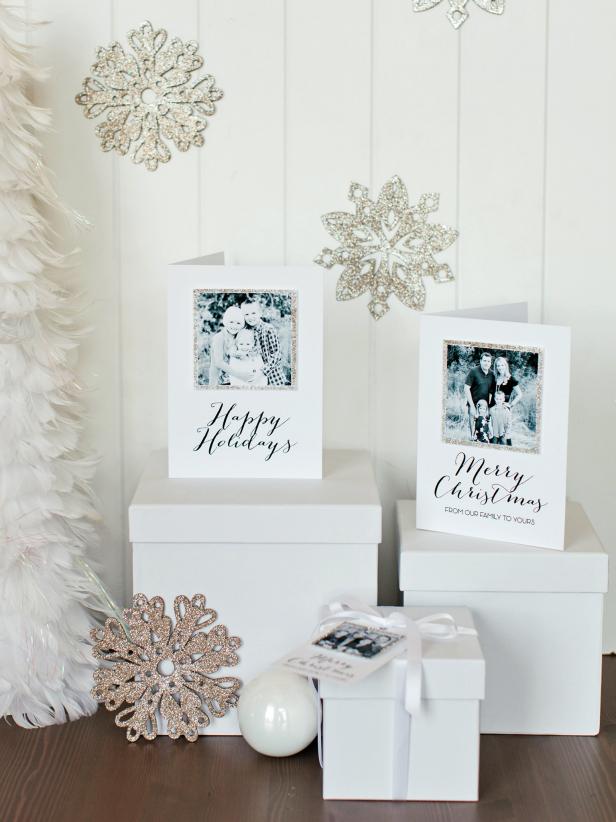 White and Glitter Christmas Card Display on Boxes
A white palette with glitter accents creates a beautiful winter decor without giving in to the traditional red and green of Christmas. Simple boxes can work as a lovely Christmas card display and ornaments can add decorative touches to more than just a tree.
Display your family's Christmas cards on top of gift boxes of varying heights and arrange around a small entryway tree.
Update Traditional Garland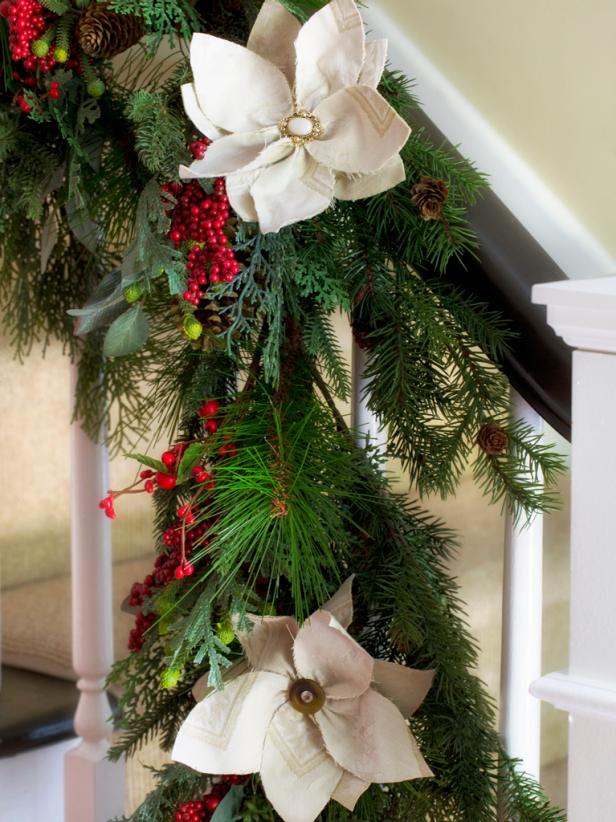 Holiday Felt Poinsettia Garland
Dress up your banister's garland with handmade fabric poinsettias. To add an extra layer of visual interest, trace leaves directly onto fabric using a marker or chalk. Next, cut along the traced leaf silhouette with scissors. Once cut, layer several pieces of fabric together, and fasten with a needle and thread. Finish with a button to add instant graphic pattern and classic holiday charm with minimum expense.
Give traditional garland a chic update with these beautiful DIY felt poinsettias.
Make Your Own Poinsettias
02:57
Britany Simon shows how you can make your own fabric poinsettias.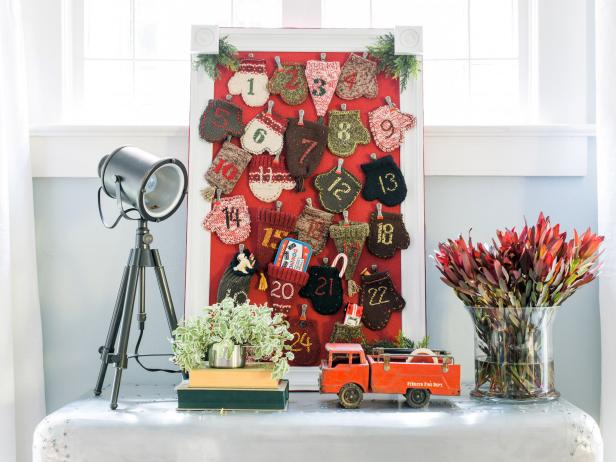 Knitted Advent Calendar
Nothing builds up excitement for the holidays more than an advent calendar and this cozy, handmade version is packed with treats and charm!
Flynnside Out Productions
Add vintage charm to your foyer table vignette with a DIY Advent calendar like this adorable creation made from upcycled sweaters.
No-Sew Peppermint-Stripe Pillow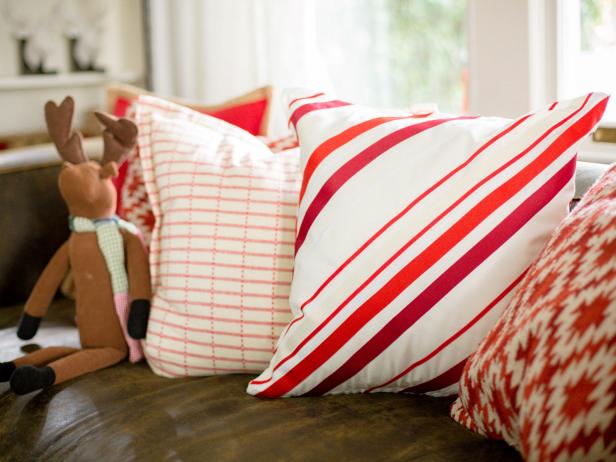 Peppermint Stripe Pillow
Add another layer of cheer to your holiday decor with this fun, no-sew peppermint stripe throw pillow!
Flynnside Out Productions
Add holiday flair to your foyer bench or chair with these candy-striped Christmas pillows. No needle and thread required!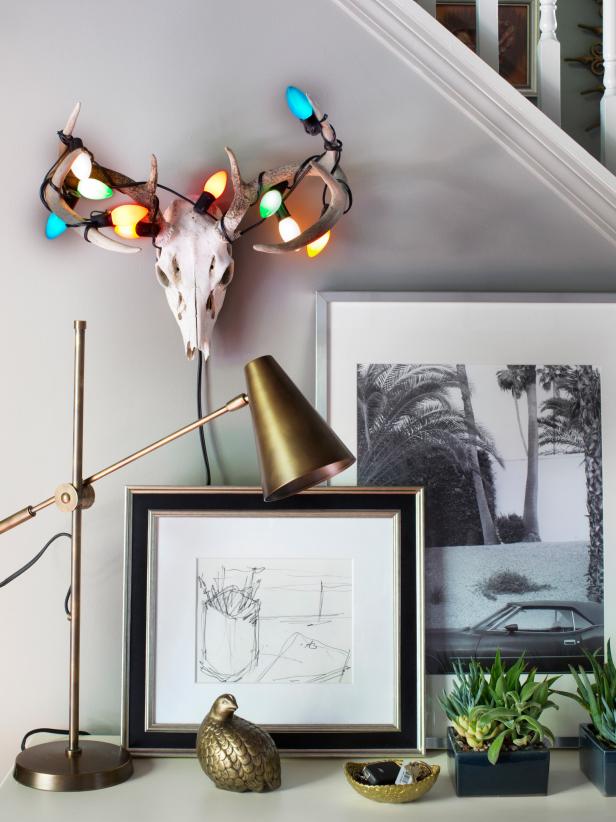 Holiday Lights on Animal Skull
Horns and skulls may not seem like holiday decor, but with the addition of vintage colored lights, these staples of masculine decor can take on a playful, urban vibe. Consider hanging the fixtures near an entrance, wrapping them with a single strands of lights, then using a cloth-wrapped extension cord to add vintage charm.
If you're short on time or don't want to go through the hassle of a decorating overhaul, simply add string lights or holiday garland to your existing entryway decor. It only takes a few minutes but makes a big impact!
If you don't have a fireplace or mantel to hang stockings, use your entryway's coat rack as a creative alternative. Not only does it solve the problem of where to hang your stockings, but also adds festive color to your foyer. Decorate the top of your new "mantel" with greenery and ornaments for extra holiday flair.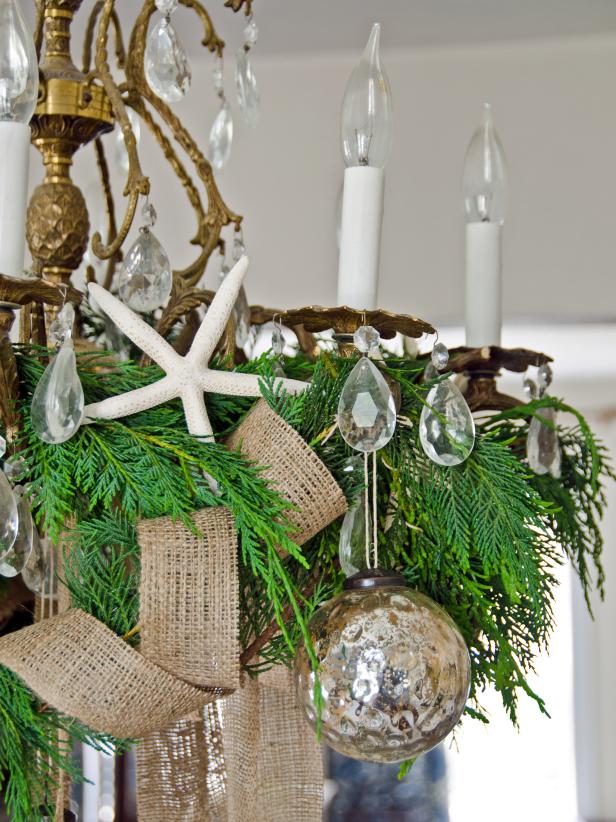 Chandelier With Coastal Christmas Decor
A classic chandelier gets decked out with coastal Christmas decor.
Add decorative interest above as well as below. Weave lengths of fresh garland and burlap through the arms of your foyer's chandelier and secure with twine or florist wire. Hang metallic globe ornaments in varying sizes throughout for a touch of holiday sparkle.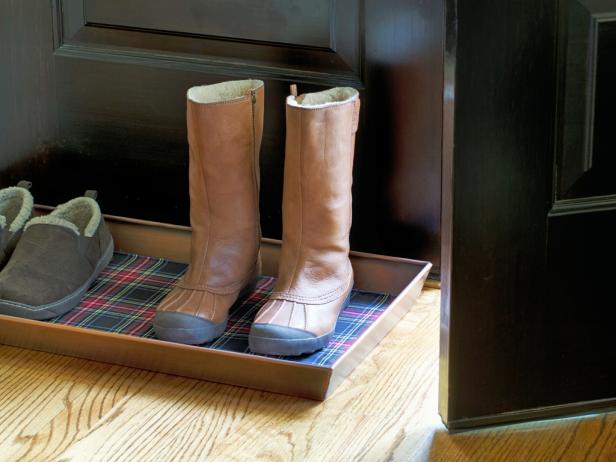 Holiday Plaid Boot Tray
To dress up your boot tray this winter, cut a piece of indoor/outdoor fabric featuring a holiday palette or pattern to size, and attach to the bottom of your boot tray with spray adhesive. It's an easy way to add a wintry feeling to even a boot tray this holiday season.
Give your boot tray a festive makeover with fun holiday fabric. Trace the bottom of the tray onto your fabric of choice, cut out and attach with double-sided tape. If you don't have a boot tray, an old cookie sheet works as well!
DIY River Rock Boot Tray
01:27
Marianne repurposes an old cookie sheet into a metallic boot tray.
Non-Traditional "Garland"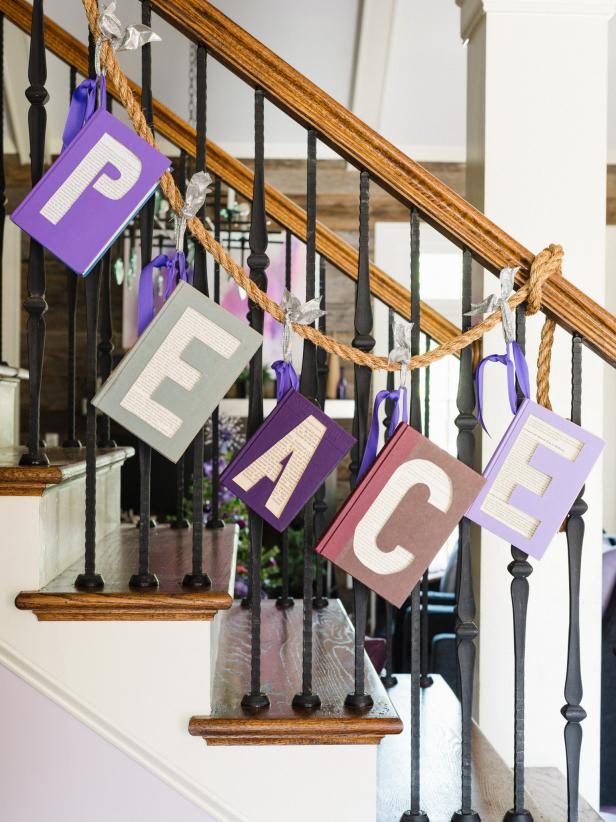 New Use for Old Books
Greet your guests with upcycled decor made from old books and sisal rope. You'll need: vintage books with similar heights and widths; spool of 1-inch-thick sisal rope; utility knife; decorative ribbon; large letter stencils; pen; drill; 1/4-inch drill bit; scissors.
Skip traditional fresh garland and line entry stairs with a fun and modern holiday banner like this DIY vintage book version instead.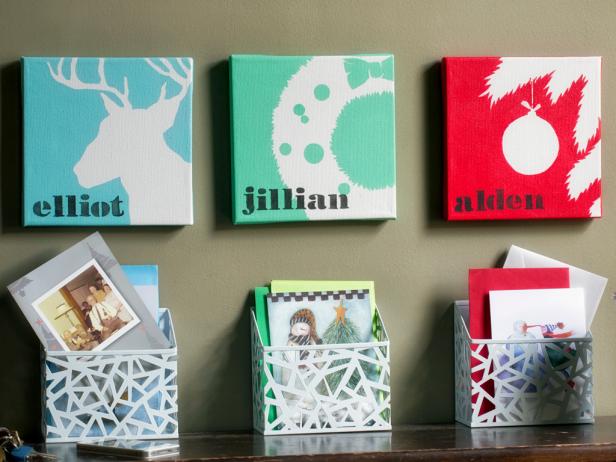 Personalized Holiday Mail Holders
To create these festive holiday mail holders paint blank canvases with holiday silhouettes, and write each family member's name on it. A variety of holiday silhouettes can be used.
Give every member of your family a special place for outgoing and incoming mail this holiday season by creating individual mail stations. Paint holiday silhouettes onto blank canvases and personalize with each person's name. The canvases can be repainted and used again throughout the year.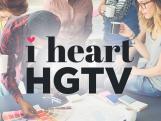 Get to know the talented writers and editors of HGTV's show and design blog. 
Go Behind the Blog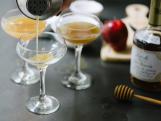 Take a look back at our past posts, from entertaining and design trends to up-and-coming HGTV shows.  
Read All Our Past Posts