Tour This Chic Contemporary Home With Art Deco Details
Interior designer Lauren Coburn utilized high ceilings and a crisp, black and white color scheme to highlight stylish architecture and an elegant contemporary design in this breathtaking Chicago home.
When he moved into his 2,000-square-foot home, Chris Wall had no plans for a major renovation. Of course, that was before designer Lauren Coburn stepped into the picture. Lauren immediately saw the home's potential and convinced Chris to let her take the reins.
Designed in the 1920s, this building was already brimming with character. Unfortunately, the home also came with many mechanical and electrical issues which didn't make for an easy makeover. One of Lauren's main objectives was to get the home up to code and make the space more accommodating for Chris, who at 6 feet 9 inches was having to constantly duck in short hallways and door frames. Lucky for Chris, Lauren was able to raise the low ceilings on the second floor to their original height of 6 feet 10 inches.
Once the ceilings were raised, Lauren worked diligently to create a home that catered to Chris' height and design style. White walls, ceiling beams and perfectly scaled furniture were all part of her plan to create a home that complemented Chris.
In order to cater to Chris' style, Lauren put a heavy focus on lighting. "When we gutted and redid the kitchen, we added small cans which related to the added beams throughout the kitchen," explains Lauren. "We used a chandelier in the dining room and added track lighting and pin lights to highlight the beautifully restored original ceiling details."
In the living room, a 6-foot-wide chandelier steals the show, highlighting the brilliant ceiling detail, which is original to the home but needed to be restored. After the redesign, art-deco details pair beautifully with Lauren's contemporary vision, while the intricate ceiling became her favorite feature in the home.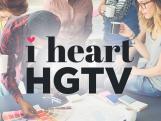 Get to know the talented writers and editors of HGTV's show and design blog. 
Go Behind the Blog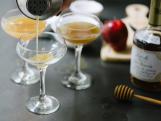 Take a look back at our past posts, from entertaining and design trends to up-and-coming HGTV shows.  
Read All Our Past Posts