10 Design + Project Resolutions to Tackle This Year
It's easy to remember to tackle things like exercise, diet and business goals, but what about resolutions for your home?
We're one week into the new year, and you're likely pretty committed to your personal resolutions. But why not think through some design and project-based resolutions that you can work toward in your home this year, too? Here are 10 of our faves. (No treadmill required.)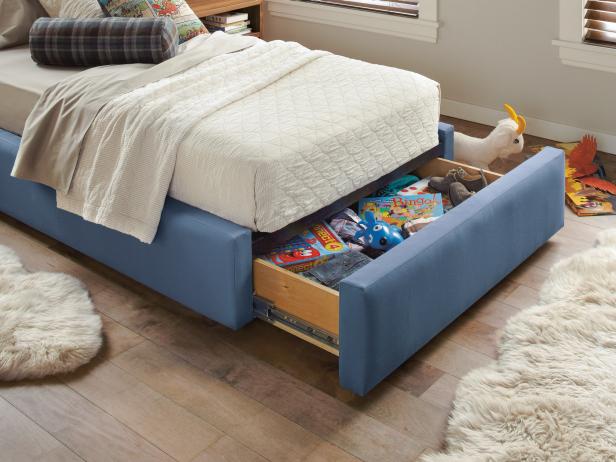 Kid's Room With Under-the-Bed Storage
When one closet can't hold all the clothes, shoes and toys that pile up in a child's bedroom, you need alternatives. A child's bed with drawer underneath like this one from Room & Board is a space-saving storage solution for books, shoes and toys, so you have enough room in the closet for your child's clothes.
Whether or not you read Marie Kondo's wildly popular book The Life Changing Magic of Tidying Up, one of the best things you can do for your home in the new year is to implement a "no clutter" policy. For me, this meant purging, purging and more purging.
My biggest take away from Marie's book was her advice to get rid of absolutely anything in your home that does not "spark joy." This isn't foolproof as it's hard to think of a broom or a file folder as sparking joy, but I found it worked pretty well while cleaning out my closet.
While many of us are able to easily stay on top of basic cleaning tasks, I found that I was often falling asleep at the wheel when it came to those DEEP CLEANING to-dos that I always meant to get to but usually didn't. Things like: vacuuming my mattress, wiping down the walls (we have a dog drool situation), deep cleaning our appliances, etc. So for 2016, I've decided to add calendar appts for myself throughout the year so I don't forget any of my cleaning tasks.
Clean the Fridge in 5 Minutes
01:09
Here's how to freshen up your fridge inside and out in only five minutes.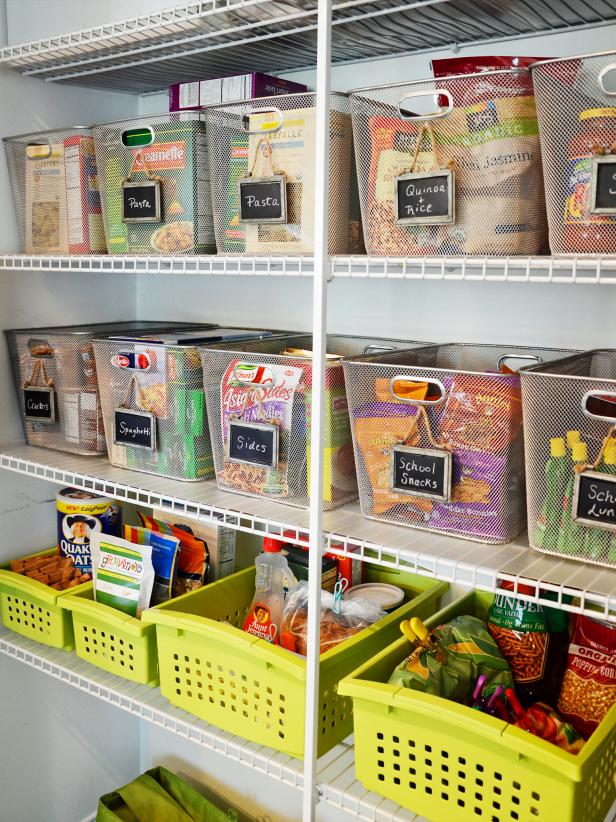 Organized Pantry
1. Start With a Clean Slate. Empty your entire pantry, and thoroughly clean it before you begin the organization process. Starting fresh will help keep things organized longer. 2. Take Inventory. Make a list of your pantry staples and update it regularly. When it's time to go grocery shopping, take your list with you. You can download pantry inventory lists online for free.
Getting organized is an ongoing project, but laying the groundwork definitely goes a long way. If you're feeling overwhelmed by all of your home organizing projects, break it down room-by-room and don't take on too much at once. As with the cleaning tasks, try scheduling in some organizing tasks, once a month to start, and take it from there. I find the kitchen is always a great place to start, as getting organized there could potentially have the biggest impact on your family's day-to-day life.
One day not too long ago, I looked into my linen closet and realized it was a hot mess. I had a random collection of sheets, towels and linens that felt disjointed rather than intentional. So I purged what I didn't love anymore (see what I did there?) and rounded everything out by getting more of what I truly loved. Having a uniform collection of towels, sheets and table linens brings a smile to my face each and every time I open up my linen closet now. So if you're an order addict too, consider stepping up your game in 2016.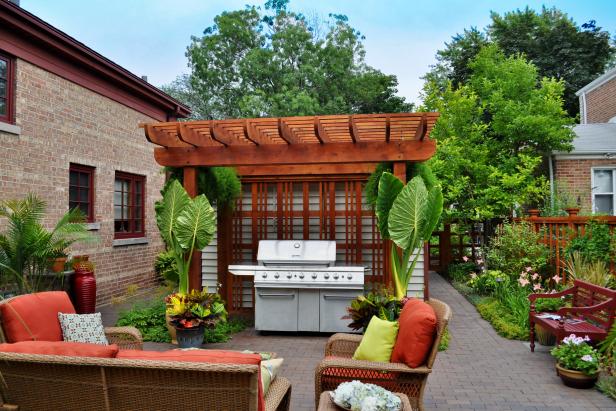 K&D Landscape Management: Hide the Ugly With a Fabulous Facade
As with all city gardens, space is at a premium, and in planning a great design, sometimes we are stuck with an eyesore. For this project, the landscapers at K&D Landscape Management built an outdoor pergola to mitigate the obtrusiveness of an structure that had to remain intact. With their magic wand, they transformed this piece into an attractive backdrop for the owners' outdoor grill, using the same fencing material that encloses the property.
K&D Landscape Management John Algozzini
Whether you rent or own, chances are you have some unfinished projects around your home that are begging to be buttoned up. As this is sometimes a hard one to tackle, I would recommend just committing to finishing ONE project around your house in January. Chances are you will feel so good once you finish up that one project, you'll want to take on even more.
If you want to avoid feeling overwhelmed, try the 1x a month method of scheduling a day each month and slotting in specific projects that are unfinished for one reason or another (and get specific on your calendar rather than just putting in a "finish a project" note; this will help you stay focused and get things done!).
Finishing Unfinished Projects
05:16
Fran helps a family finish projects and get their finances on track.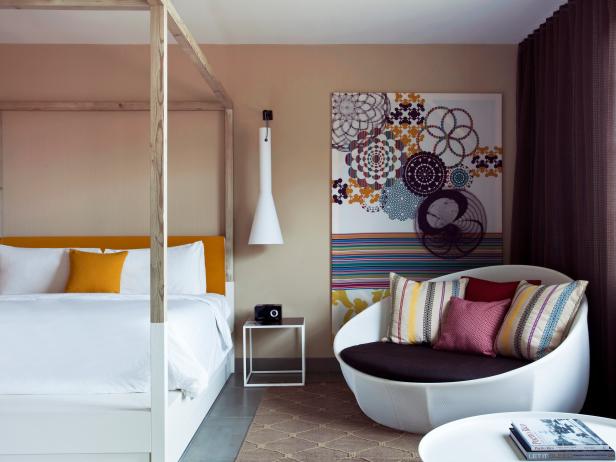 Eclectic Bedroom Retreat With Modern Four Poster Bed
In a private cabana located deep within a Puerto Rican resort's tropical surroundings, the 1,000-square-foot accommodations are decorated with vibrant tropical colors, original artwork and contemporary, eclectic furnishings for a sophisticated modern island vibe.
If you've been feeling like you might like to see a bit more luxe in your life, make a resolution to give yourself an upgrade in the new year. It could be something as simple as getting yourself a nicer set of sheets, replacing the lighting in one of your rooms or splurging and upgrading an appliance. Choose one thing to start and commit to it. If it is more of a splurge item, put together a savings plan for yourself so that you can work toward making the upgrade hassle free.
Make Your Home Eco-Friendly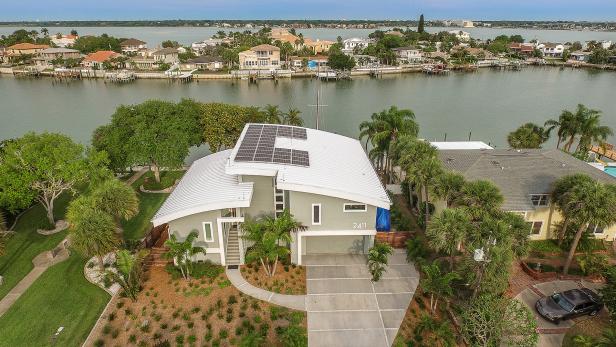 Green Exterior With White Roof and Solar Panels
The soaring contemporary design of Element House in Florida draws inspiration from the nearby Gulf waters. The graceful arching roof is meant to echo the gentle Gulf waves, and the color palette borrows greens, grays and whites from the ever-changing colors of the water and sky.
The new year is always a good time to take a look at our homes to see where we could make improvements that will help both the environment and oftentimes our own wallets. Have you switched all of your light bulbs to energy efficient models? Or considered a Nest thermostat to help regulate your HVAC charges? Schedule some time in the new year to do a home audit and see where you might be able to make some eco-friendly changes.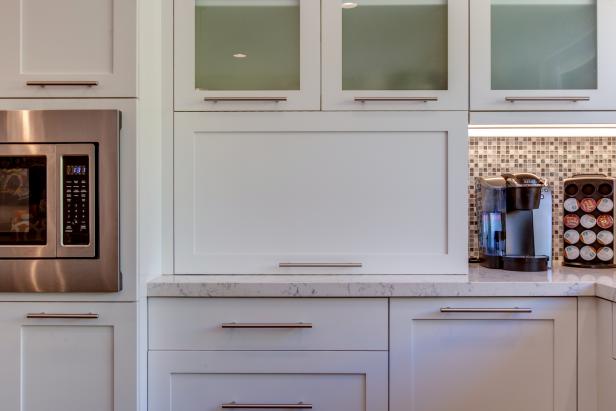 Streamlined White Cabinets in Contemporary Kitchen
Upper and lower streamlined cabinets with linear pulls provide ample storage space in this contemporary kitchen.
Jackson Design and Remodeling
For those of you who have been fairly successful at completing projects, but still lack some of the finishing touches, make 2016 all about fine-tuning the details in your home. Maybe add some curtains to finish out a room or finally replace the trim that you've been meaning to update. Switching out cabinet pulls or electrical switchplates is also a great way to fine-tune the details in your space. (Note: If you're a renter, simply save the existing pulls and switch plates so you can change them back before your lease is up.)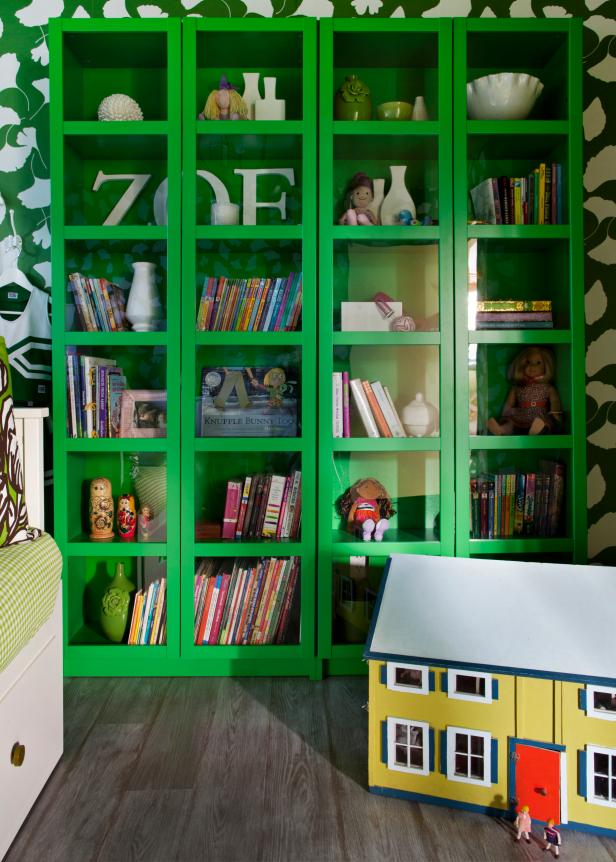 Big Green Bookcase
To accommodate Zoe's huge collection of books, ready-made bookcases were assembled, then installed on the right wall of the room, a few feet from Zoe's daybed.
If you're someone who doesn't typically take big chances when it comes to the design of your home, it might be time to commit to some big changes in 2016. Try starting with commiting to one bold decision for your home. This might mean, switching up your paint colors, adding some wallpaper or trying a new "push the envelope" piece of furniture. I always subscribe to the notion that each room in our home should have one thing in it that might have initially made us feel a little uncomfortable, because these are usually the items and choices that will have the biggest impact on your space.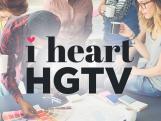 Get to know the talented writers and editors of HGTV's show and design blog. 
Go Behind the Blog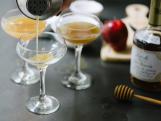 Take a look back at our past posts, from entertaining and design trends to up-and-coming HGTV shows.  
Read All Our Past Posts