We're giving away awesome prizes all of the time. Enter for your chance to win trips, cash, and stunning vacation homes! 
Ready to become a weekend warrior? Try your hand at these easy decorating projects.
Five Ways to Hide the TV
Tiffany Brooks shares five budget-friendly ways to disguise that TV set.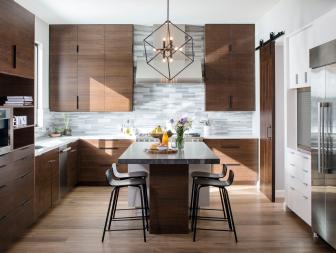 Now through October 4th, 2016, browse stunning spaces, vote for your favorites and enter for a chance to win $10,000!
Vote + Enter to Win
Travel Channel's Beach Escape Sweepstakes
Now through Friday, October 28th at 9:30 a.m., enter for a chance to win one grand prize trip to the Cayman Islands and a 6-month box subscription for the ultimate food lover.
DIY Network Blog Cabin 2016
We're sorry, this sweepstakes has ended! Thanks to all who entered for a chance to win a Gulf Coast waterfront retreat, plus a $50,000 cash prize provided by national mortgage lender Quicken Loans® and a 2016 Mazda CX-5.
Food Network Lucky Star $10K Giveaway
Entry Period #1: Evelyn L. - Schenectady, NY
Entry Period #2: Paula D. - Proctorville, OH
Entry Period #3: Amadia S. - Salem, OR
Entry Period #4: Erin D. - Independence, MO
HGTV Brother vs. Brother Sweepstakes
Winner #1: John B. - Flower Mound, TX
Winner #2: David C. - Corpus Christi, TX
Winner #3: Don C. - Cincinnati, OH
Food Network Star Fan Favorite Sweepstakes
Grand Prize Winner John H. - Ocala, FL
Entry Period Winners
Lisa K. - Gettysburg, PA
Mary V. - Baldwinsville, NY
Deborah S. - Ridgecrest, CA
Kanit B. - Dallas, TX
Jackie T. - Beavercreek Township, OH
Derek O. - Seal Beach, CA
Kel S. - Deltona, FL
John H. - Suffern, NY
Kathleen M. - Rochester, MN
Jonathan M. - Suisun City, CA
Joseph P. - Eugene, OR
Steven C. - Eureka, CA
Jeff P. - Tulsa, OK
DIY Network Cabin Cash Giveaway
Marianna P. – Meridian, ID
Angela H. – Mercersburg, PA
Gerald D. – Commerce Twp., MI
Glenn S. – Dallas, TX
Kathleen P. – Staten Island, NY
Renee B. – Hayden, ID
Grand Prize Winner
Terri K. - Cordova, TN
Stearns & Foster Redesign Your Retreat Sweepstakes
First Prize Winner: Emily D. - Mapleton, UT
Second Prize Winner: Susanne G. Amelia, OH
Third Prize Winner: Doreen E. - Gilbert, AZ
Lumber Liquidators Be Floored By Your Renovation Sweepstakes
Richard P. Waterford, MI
HGTV.com's Ultimate House Hunt Giveaway
Marcus T. – Memphis, TN
2016 HGTV Brother vs. Brother Sweepstakes
Winner #1: John B. - Flower Mound, TX
Winner #2: David C. - Corpus Christi, TX
America's Most Desperate Landscape Giveaway
Melanie M. of Durham, NC
Sargento Chopped at Home Challenge Finalists
Round 1: Pamela G. - Wrentham, MA
Round 2: Nicole P. - San Francisco, CA
Round 3: Alfredo F. - Houston, TX; Anna D. - Springfield, MO
Food Network Lucky Star $10K Giveaway
Evelyn L. - Schenectady, NY
Travel Channel's Summer Cash Sweepstakes
Jamie R. – Scarborough, ME
Travel Channel Discover America Sweepstakes
Thomas M. - Grove City, PA
Great American Country Summer Across America Sweepstakes
Steven D. – Punta Gorda, FL